Sorry, there was a problem.
Twitter returned the following error message:
Sorry, that page does not exist
Isla Mujeres Music Festival & Weeklong Fishing Competition
Nonstop dancing & fishing beckon revelers to the 8th Annual Island Time Music & Fishing Fest on nearby Isla Mujeres, February 6-11th. All proceeds go to a great cause, as attendees meet Nashville stars & reel in prize sailfish a la "Papa" Hemingway.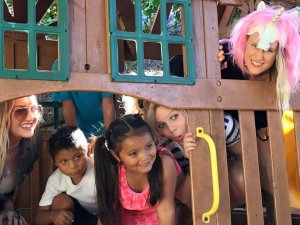 Endless Dancing & Fishing at Isla Mujeres Music Festival
What:
Island Time Music & Fishing Fest
When:
February 6-11th
Tickets:
Avid anglers and music lovers rejoice, as one of the most popular Riviera Maya festivals returns, February 6-11th. The 8th Annual Island Time Music & Fishing Fest brings five days and nights of live tunes, intimate meet-and-greets, cocktail parties, and beach soirées to Isla Mujeres, along with six days of friendly fishing in the Mexican Caribbean. Best of all, every cent of proceeds benefit "Little Yellow Schoolhouse," a local charity providing education for children with special needs.
Intimate Events to Meet Your Favorite Stars

In addition to its charitable heart, what sets Island Time apart is the access attendees have to participating artists. That means you'll likely have a chance to meet this year's performers before or after their up-close-and-personal sets. Such stars include:
"American Idol" alum, Kellie Pickler promises to swoon us all, hot on the heels of her critically acclaimed third album, 100 Proof.
After touring with the likes of Dierks Bentley, Keith Urban, and Brad Paisley, Jerrod Niemann is about to rock the world – starting here at Island Time.
A pair of singer-songwriter guitar virtuosos, Love & Theft promises to get crowds moving with award-winning #1 hits like "Angel Eyes" and "Runaway."
Reel In A Trophy Sailfish Like Hemingway
You've seen the pictures of "Papa" standing proudly beside his legendary catches – now it's time to reel in one of your own. Easily one of the most prized species in the sea, Sailfish can reach lengths of up to 9.5 feet, weighing as much as 200 pounds, capable of swimming upwards of 65 mph. Registration for the catch-and-release tournament is $1,200 per boat, including 4 tickets to every Island Time event.