10 unknown beaches in Riviera Maya you have to discover
Riviera Maya is a Mexican destination with a great natural wealth, exuberant green forests and incredible turquoise seas. However, there are some places that aren't much talked about and remain hidden in the country. This time, we took the challenge of traveling to 10 unknown beaches in Riviera Maya you have to discover when staying in the Mexican Caribbean:
Mahahual
Located 55 kilometers from the Cancun-Chetumal 307 Federal Highway, this beach will wrap you in peace. One of its most popular attractions is the Bacalar lagoon, popularly known as "the lagoon of the seven colors". From there you can see a wide variety of colors and in the depths you will contemplate amazing cenotes.
Pac-Chén
The warmth and kindness of its people make Pac-Chén a special place. Surrounded by a dreamy landscape and an awesome eco touristic path that connects to the Mayan jungle. Pac-Chén impresses its visitors with the Jaguar cenote, with a depth of 13 meters; once inside you won't want to leave.
Isla Mujeres
For those who already visited this island, surely have a big experience to tell. Isla Mujeres is located 35 minutes away from Cancun. To arrive there you must rent a boat or trip in ferri. Its crystalline water and coral reefs are perfect to practice aquatic activities or relax all day.
Holbox
Most travelers, who have visited it, consider it a virgin beach and the spring breakers started getting to this island. You find all you want, and also you can fish, dive and snorkel with dolphins or carey turtles.
Cozumel
It is the perfect option for people who seek privacy on their vacation. Here you can enjoy an endless of walks and rest in the turquoise waters, both activities preferred by couples.
Punta Nizuc
It has the second largest barrier reef in the world and is characterized as one of the most beautiful places to visit. It is located 10 kilometers away from Cancun International Airport and in the north of the hotel zone. Its waters are warm, clear, crystalline and shallow depth, and also abound an infinity of marine species.
Tulum
Lose yourself in the natural wonders of this archaeological site and explore every nook. To arrive here, go on the Federal Road 307 until kilometer 128.
Chemuyil
Like Punta Nizuc, this beach is distinguished for its shallow depth waters and good visibility for swimming. Chemuyil is an ideal zone if you are looking to stay away from the city, as it has an almost virgin forests and the hotel area and aquatic parks are few kilometers away.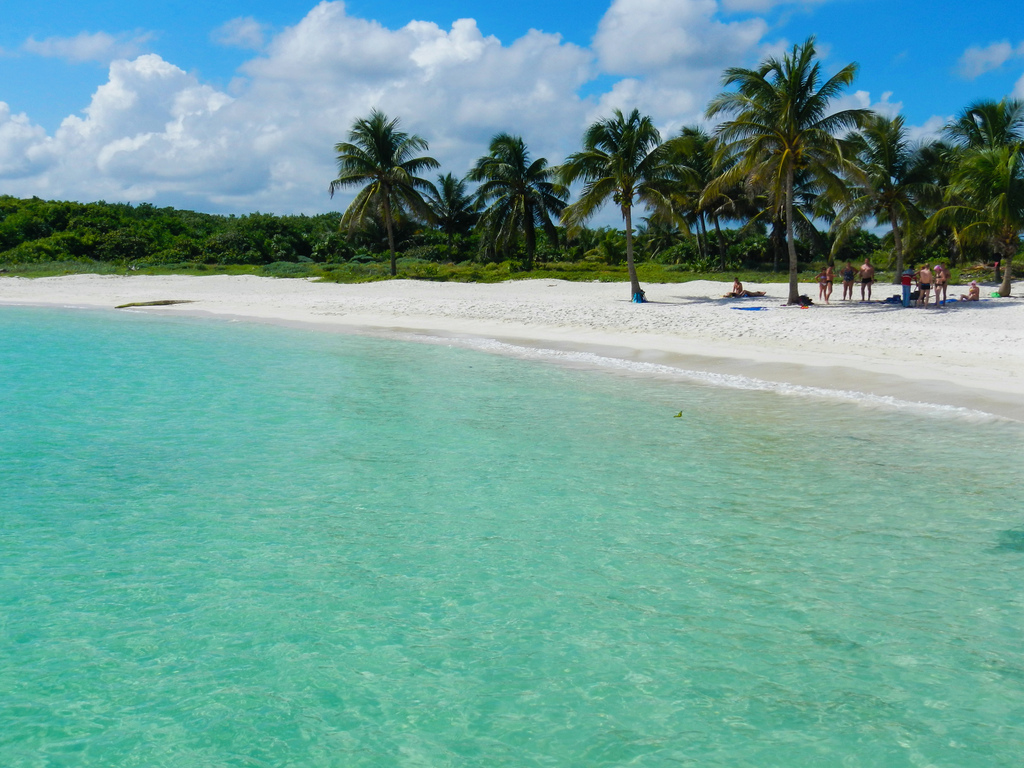 Akumal
Akumal is registered in Quintana Roo's history as the first beach in the Mexican Caribbean. It is located 105 kilometers away from Cancun and 26 kilometers from Tulum. It is known for being a peaceful place with natural wealth. Dos Ojos Cenote is one of the main attractions where you can see stalactites and stalagmites. This site is recommended for people who seek adventures in underground caves.
 

Mamitas Beach
It is considered one of the best places in the world. The combination between the white sand and crystal-clear waters creates a cozy space. Also, its natural beauty is very popular amongst celebrities and famous.