Sorry, there was a problem.
Twitter returned the following error message:
Sorry, that page does not exist
A Music Festival in Riviera Maya Where Fashion Shares the Stage
What happens when runway models rock the stage to red-hot beats from live DJs on one of the most pristine beaches in the world? The answer is, you have the time of your life across Riviera Maya during Heineken Winter Beach 2016, November 18th-21st.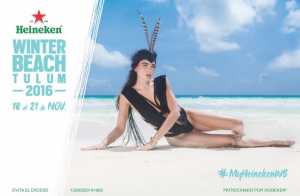 The Ultimate Fashion & Music Festival in Riviera Maya
What:
Heineken Winter Beach 2016
When:
November 18th-21st
Everyone knows seaside concerts and beach parties tend to attract a crowd that rivals the beauty of the scenery. Add world-class runway shows, models everywhere you turn, and set such a fashionable music festival in Tulum – amid its dramatic tropical setting full of ancient Mayan ruins – and you've got Heineken Winter Beach 2016. The sexiest fest in Riviera Maya all season, it's four days and nights of nonstop dancing, pool parties, fashion shows, yacht sailings, beach BBQs, pop-up DJ sets, all-night affairs, and exclusive events in clubs up and down the coast.
Snag Next Year's Trends at the Fashion Market
Opening on Saturday the 19th, Winter Beach Fashion Market is where you'll find styles from the festival's featured designers, as well as lesser-known local and international trendsetters. Everything from red-hot swimsuits to jaw-dropping evening wear is sure to fly off the racks – and the market is open to the public – so be sure to check out the selection before word gets out.
Who's Rocking the Stages & Runways?
Here's just a taste of who will be performing or presenting their designs during the festival:
Designers
Benito Santos – Mexican designer whose stylings have graced Miss Universe, the Oscars, Cannes Film Festival, and the First Lady of Mexico.
Kris Goyri – Actress Miranda Kerr, ELLE, Vogue, and Glamour magazines are just a few of Goyri's fans.
Ivan Avalos – One of the most daring voices in Mexican fashion today.
Musical Acts
"Deep funk" from Purple Disco Machine.
Pillow Talk's disco house beats.
The infectious dance mixes of Betoko.