Sorry, there was a problem.
Twitter returned the following error message:
Sorry, that page does not exist
A Touch of Avant Garde
El Univresal
The chefs Mikel Alonso and Bruno Oteiza present a small blend of signature and Mexican cuisines for enjoying in Playa del Carmen.
The keynote address was attended by young Chef Xavier Perez Stone, who recently won the title of Mexico's "Chef of the Year" and who now leads Cocina de Autor at Grand Velas Riviera Maya.
This new offering by Mikel Alonso and Bruno Oteiza, owners of restaurant Biko, and their apprentice Gerard Bellever, represents a more relaxed and fun type of cuisine for restaurant Cocina de Autor at Grand Velas Resort in Playa del Carmen. In fact, it is a "small mixing" in which their signature cuisine combines with the flavors and ingredients of Mexico's beaches and southeast region.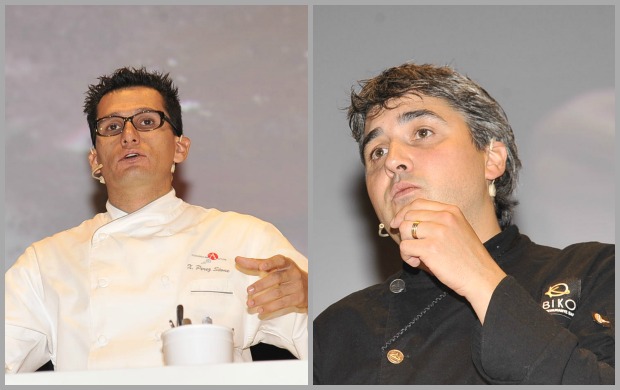 The names of the dishes lend themselves to playfulness and a relaxed vacation ambience, with a white fish dish called "A tanned blond", an "Out of place" chocolate dessert, crab with Veracruz salsa and venison with Yucatan spices prepared in an unconventional manner in honor of avant garde or "autor" cuisine.
"The cuisine is an interpretation of what we are doing. Today we are seeing that different types of cuisine can coexist around the world. Mexican food maintains a flavor balance between sour and spicy that enchants the palate of foreign diners", states Mikel.