A travel guide to Playa del Carmen
A beautiful city located in the heart of Riviera Maya, "Playa del Carmen". This is a very famous destination for shopping, mexican souvenirs, restaurants and nightclubs. If you are looking for a more stylish and relaxing atmosphere, head to the beach clubs! Most of them offer food and beverages, water sports, massages and great live music.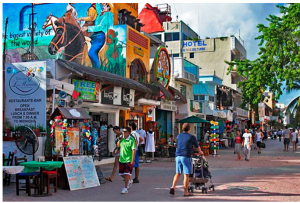 What makes Playa del Carmen so famous is the Fifth Avenue, located in the middle of the town. You can't miss the opportunity to visit this beautiful and bustling street which has become the most famous meeting point of Playa del Carmen. Walk through all the little shops and boutiques to experience the mexican style. There are many bars and restaurants from different cuisine you can choose: italian, mexican, american, etc. Karen, seafood steak & pizza, is one of the very first restaurants opened on the 5th avenue. Since 1992 has conquered the palates of the locals and tourists in Playa del Carmen.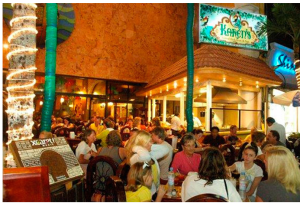 Have dinner at Karen's!
After time passes, the evening turns to a more fun enviroment. The artists begin to present shows on the streets of Playa, the voladores of papantla and mayans exhibit their rituals, dancers begin their salsa concerts and many more musicians turn on the streets of Playa del Carmen.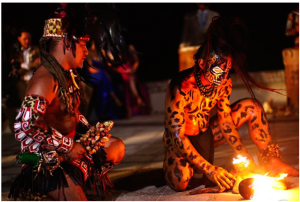 There are many Scuba Diving tours you can take in Playa del Carmen, the reef and marine life is gorgeous. Not any reef, it's the second largest in the world! So if you are a little bit scared of diving, discover it with a snorkel equipment and see it from the top.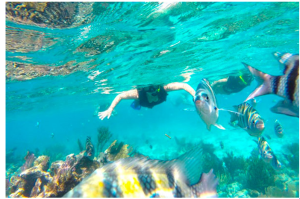 The beautiful Island of Cozumel connects to Playa del Carmen. By going to the terminal of the ferry, you can get your tickets and travel to Cozumel. Each ferry departs every 30 minutes.
If you play golf; Playa del Carmen features big and exclusive golf courses in the luxury resorts and residences.
So you have many options to enjoy in Playa del Carmen, a destination that has all! Enjoy your vacation.