Sorry, there was a problem.
Twitter returned the following error message:
Sorry, that page does not exist
AAA otorga 5 Diamantes a Grand Velas Riviera Maya
Recientemente, Grand Velas Riviera Maya ha sido galardonado con los 5 Diamantes que otorga la AAA, (American Automobile Association's) premiando con la excelencia, calidad, limpieza, ambiente, amenidades y servicio que se ofrece al huésped.
Cada año, más de 60 editores especializados de esta prestigiosa asociación evalúan sin previo aviso a lugares de interés turístico en los Estados Unidos, Canadá, México y el Caribe dando su aprobación para conceder el reconocimiento a tan sólo un 0.27% de las cerca de 60.000 propiedades que lo intentan.
De esta manera, Grand Velas Riviera Maya se consolida como uno de los mejores resorts en México y el continente, con sus deslumbrantes instalaciones y suites de lujo, exquisitos restaurantes con chefs de talla internacional y un espectacular spa de clase mundial (considerado el mejor del mundo por Virtuoso).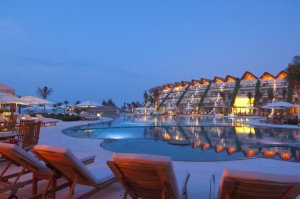 Así, Velas Resorts cuenta ya con un total de 26 Diamantes distribuidos en sus cuatro propiedades en el país: Velas Vallarta, Casa Velas, Gran Velas Riviera Nayarit y Grand Velas Riviera Maya, colocándose entre el gusto del público más exigente y estableciendo el compromiso de brindar siempre lo mejor.