Sorry, there was a problem.
Twitter returned the following error message:
Sorry, that page does not exist
Grand Velas Riviera Maya recibe 5 Diamantes.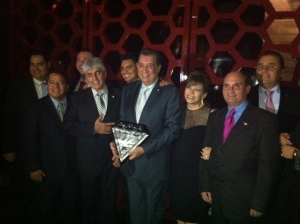 El día de ayer, Tony Perrone –Director Nacional de la AAA, hizo entrega por segunda ocasión, del máximo galardón en la industria hotelera: 5 Diamantes por la excelencia en el servicio y la calidad de sus instalaciones.
Grand Velas Riviera Maya se ha destacado, desde su apertura en 2008, por ofrecer lo mejor de la hospitalidad mexicana en un ambiente de lujo y confort incomparable. Perrone añadió que Grand Velas ha establecido nuevos estándares para conseguir este codiciado reconocimiento.
Conozca más acerca de este resort y su tour culinario, así como su Spa nombrado recientemente, Mejor Spa del Mundo, por Virtuoso.