Grand Velas Riviera Maya recibe 5 Diamantes.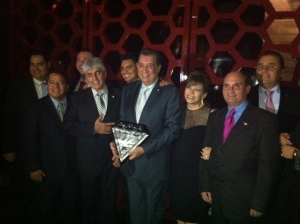 El día de ayer, Tony Perrone –Director Nacional de la AAA, hizo entrega por segunda ocasión, del máximo galardón en la industria hotelera: 5 Diamantes por la excelencia en el servicio y la calidad de sus instalaciones.
Grand Velas Riviera Maya se ha destacado, desde su apertura en 2008, por ofrecer lo mejor de la hospitalidad mexicana en un ambiente de lujo y confort incomparable. Perrone añadió que Grand Velas ha establecido nuevos estándares para conseguir este codiciado reconocimiento.
Conozca más acerca de este resort y su tour culinario, así como su Spa nombrado recientemente, Mejor Spa del Mundo, por Virtuoso.
Related
Luis Eduardo Arellano Cuevas

Riviera Maya is by far the best destination in Mexico, its repertoire of attractions has options for all tastes and occasions, from groups of friends…

Luis Eduardo Arellano Cuevas

Visiting Riviera Maya is a unique eco-tourism experience and a delight for all nature lovers, especially for one of its hidden treasures that await buried…

Meyrilu Rodríguez

Snippet: Chile Habanero is the denomination of origin of the Yucatan Peninsula, which guarantees premium quality and characteristics.