Sorry, there was a problem.
Twitter returned the following error message:
Sorry, that page does not exist
Abre UQROO Campus en Playa del Carmen
por Manuel Calderón de la Barca
"Hace 20 años los quintanarroenses tenían que irse a otros estados para estudiar la universidad, y hoy, en ocho de diez municipios tenemos universidades para que los jóvenes estudien una carrera", manifestó Félix González, gobernador del Estado, quien junto con el titular de la Secretaría de Educación Pública (SEP), Alonso Lujambio, inauguraron en días pasados el Campus Riviera Maya, de la Universidad de Quintana Roo (UQROO), cuya inversión supera los 345 millones de pesos.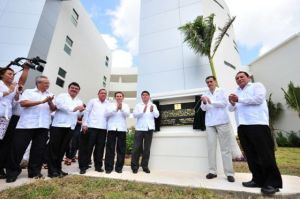 La UQROO es la principal universidad pública de Quintana Roo, con sede en Chetumal, así como unidades académicas en Cozumel y ahora en Playa del Carmen, donde ya se estrena el inmueble en el que se imparten tres carreras.