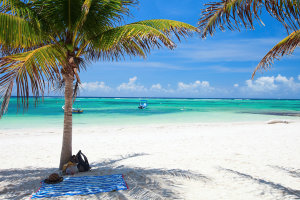 Just 40 minutes south, the sleepy town of Akumal welcomes visitors seeking a relaxed alternative to overcrowded tourist hotspots like Tulum and Cancun. Here, you'll find a water-lover's paradise rife with mysterious cenotes, fish-filled lagoons, and a pristine Caribbean coastline rich with exotic marine life. With so many underwater worlds to explore, it's no wonder the town was founded as a scuba diving community in 1958. In fact, Akumal diving ranks among the best in the world, especially in the area's never-ending network of caverns and caves.
Akumal Dive Shop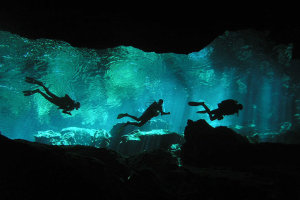 Plaza Ukana I
Over 10,000 divers have discovered their passion for scuba under the experienced guidance of the PADI-certified instructors at this local. For over 35 years, they've offered all levels of training to ages 8 and up. Whether it's your first time, you're finishing certification, or an experienced diver looking for adventure, this is the official scuba resource in Akumal. In addition to instruction, they offer Cavern Dives, Cave Dives, Sailing Tours, Whale Shark Swims, Deep Sea Fishing, Snorkeling, and a Bubblemaker Course for kids.
One of the World's Best Underground Walks
Not all caves in Akumal are underwater, with five million years of geological history right beneath your feet in Aktun Chen Natural Park. Recognized as one of National Geographic's Top 10 Underground Walks, the half-mile cave tour hides a trove of magical mineral formations and otherworldly sights. There's also an underground river for swimming and snorkeling, an animal sanctuary, and four zip lines for soaring through the rain forest.