Authentic Yucatán Food in Playa del Carmen Offers a Taste of History
Forget everything you think you know about Mexican food & dig into traditional Yucatán fare that will leave your taste buds dancing. From spice-laden suckling pig Cochinita Pibil to pumpkin & egg "enchiladas," welcome to a whole new world of flavor.
Our Favorite Traditional Yucatán Food in Playa del Carmen
You may be in Mexico, but dishes authentic to Riviera Maya differ greatly from those you might think of as "Mexican food." While yes, the tacos, tamales, and quesadillas here are amazing, you may need to look a little harder for a taste of what our region really loves. Two great restaurants in Playa del Carmen serving such traditional Yucatán fare to hungry locals and curious visitors include the beloved rustic gem, El Faisan y El Venado (Carretera Federal & 2nd St), as well as the decidedly upscale Mayan experience at Yaxche (5th Av & 22nd St). You'll find delicious iterations of all three dishes below at these eateries, along with super affordable, "home-cooked" versions at food carts across town. As for which is best, that's up to you to decide.
Papadzules
Many Mexican food historians assert that without papadzules, there would be no enchiladas. So what makes the two dishes so similar? Basically, it's the concept. For the ancient Yucatán version, corn tortillas are dipped into a creamy sauce of toasted pumpkin seeds, epazote, and broth. These "wet" tortillas are then filled with chopped hard-boiled eggs, bathed in more sauce, and accented with a tomato-habanero chiltomate salsa.
Sopa de Lima
If you like tortilla soup, you'll love this tangy alternative to the "Tex-Mex" version you're probably used to eating. Everyone makes it differently, but the backbone is always the same – TONS of sour lima ágria (a floral, bitter, extra-tangy species of lime unique to the Yucatán). Other ingredients may include shredded chicken or turkey, its stock, a sofrito of tomato / onion / pepper / garlic, and plenty of fried tortilla strips.
Cochinita or Pollo Pibil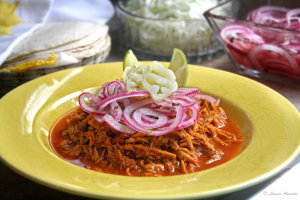 Whether made with pork or chicken, this saucy, spice-laden, smoky treat is easily the Yucatán's most famous dish. Literally meaning "baby pig," the cochinita version is traditionally prepared from a whole suckling pig marinated in earthy ground achiote seeds and bitter orange juice, wrapped in banana leaf, buried in a pit and slow-roasted. The resulting "Mexican pulled pork" is often eaten for breakfast or lunch, served in tacos or tortas with pickled onions. For one of the most authentic versions in town, try the "Cochinita Carts" around Playa's main square (5th Av & Benito Juárez).