"Best of Mexico Riviera Maya" Dining is a 10-Course Tasting Tour
Treat your taste buds to an all-inclusive 10-course tour through the mouthwatering world of modern Mexican fine dining, October 5-9th, as Grand Velas Riviera Maya invites guests to delight in culinary magic from the best chefs in Mexico today.

A Complimentary 10-Course Riviera Maya Dining Extravaganza
What:
Best of Mexico Riviera Maya
Where:
Frida Restaurant
Grand Velas Riviera Maya
When:
October 5-9th
Your passport to the world of modern Mexican fine dining awaits at Playa del Carmen's premier, all-inclusive "foodie" resort. Best of Mexico Riviera Maya is a sublime celebration of our nation's current culinary revolution, marked by artful visions of innovation and a whole-hearted reverence for tradition. The eagerly anticipated event consists of a 10-course tasting menu embracing the flavors of our entire country, specially prepared by five of today's most renowned Mexican chefs. Best of all, the once-in-a-lifetime spread is completely complimentary for every guest at Grand Velas Riviera Maya.
The Taste of a Nation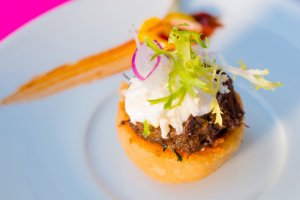 As Mexican fine dining has taken the world by storm, foodies have been drawn to the movement largely due to the vast flavors and culinary techniques at play. A rich pre-Hispanic tradition existed long before the Spanish arrived in the 15th century, with over 500 years since then for global influences to take shape. What results is a mouthwatering mélange of spices and cooking styles, dishes created with versatility at heart, allowing today's chefs to creatively riff on classics, while maintaining an authenticity that can only be grasped in tasting.
Inspired Mexican Food from the Best of the Best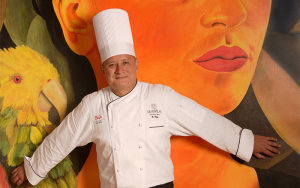 Set in AAA Four-Diamond award-winning Frida Restaurant, the only thing more impressive than the space is the list of culinary heavy-hitters behind your 10-course menu. They include:
Globetrotting visionary, Zahie Téllez, marrying Mexican, Italian, Lebanese, and pre-Hispanic flavors.
TV's Top Chef alum Carlos Gaytan of Chicago's beloved restaurant, Mexique.
Francisco "Paco" Ruano, otherwise known as the man behind the best restaurant in Guadalajara.
French by birth but Mexican at heart, Mikel Alonso helped create the menu at the first AAA Five-Diamond all-inclusive restaurant – Grand Velas Riviera Maya's very own Cocina de Autor.
Having cooked all across Mexico, Frida's Chef Ricardo de la Vega is honored to cook alongside such culinary legends as their host.