Best Spa Ever:Grand Velas Riviera Maya Spa
Grand Velas Riviera Maya Spa: a gorgeous, modern spa set in the beautiful Grand Velas Riviera Maya resort, not far from Playa del Carmen.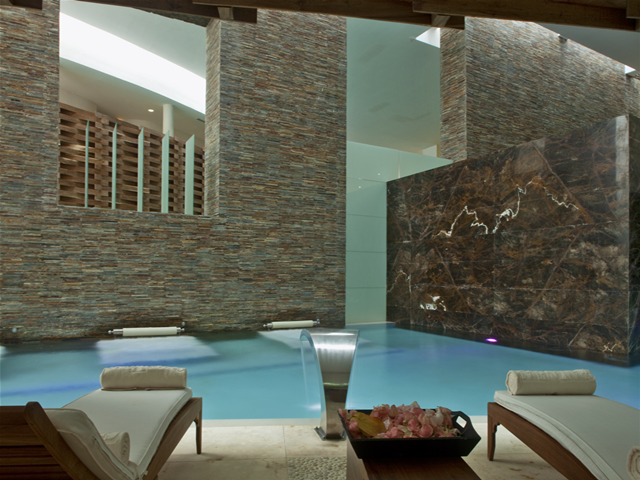 I was recently invited to review Grand Velas Riviera Maya's Spa– a super modern and gorgeous retreat set in the beautiful Grand Velas Riviera Maya resort, not far from Playa del Carmen. I have to say, I was excited at the thought of living the Spa experience here, as it has been awarded one of the best Spas in the Americas. I can honestly say I enjoyed every minute! Its spacious and luxuries facilities truly promote your health and wellbeing.
When I arrived, the sound of water cascades set the tone of the visit. Immediately, a Spa concierge welcomed me with a refreshing iced tea. She then led me to the changing room; a warm, clean and spacious area with plenty of lockers containing robes, slippers and beauty amenities. With my bathing suit on, I was ready for my treatment:  The Water Journey.
The treatment consists of using water in its different states and temperatures to revitalize your body. Utilizing this natural element as a therapeutic agent goes back to our ancestors –it is a treatment used to treat various health issues and to provide a state of relaxation.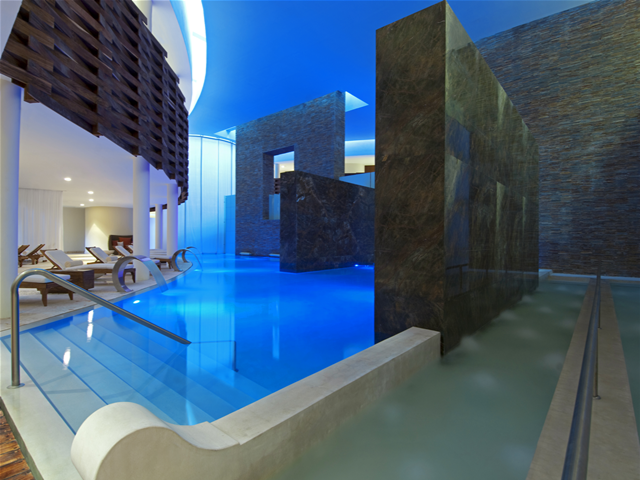 Warm water relaxes and stimulates the immune system, cleansing the body of toxins as it helps remove what your body doesn't need. Cold water helps to reduce inflammation and tones weakened muscles. The water journey includes different stages: sauna, clay room, ice room, color therapy steam room, sensation showers, hot tub and cold plunge, and a sensations pool.
The Spa is also stunning; each of the hydrotherapy rooms has its own individual design.  One of the many things that caught my eye was the beautiful mosaic tiles that decorate each space.
Every detail here enhances the user's experience – healthy snacks and hot and cold beverages (available all day), lounge areas, personal Spa care amenities and cool facial towels, just to mention a few.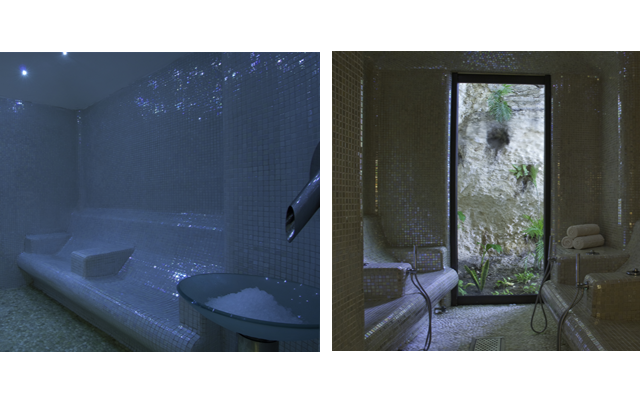 When my treatment was over I went into the relaxation room- a quiet, soothing area with chair-beds, blankets, healthy snacks and organic teas. I was more than ready for a nap- honestly, this is Disneyland for adults!
I would definitely love to go back and try the other treatments they offer. For pampering, there is a vast collection of luxury treatments available, in addition to everyday must-haves such as manicures, pedicures, hair styling, and a Spa boutique where you can purchase the products used at the Spa to continue to indulge yourself at home.
¿Buscas la versión en español?