Sorry, there was a problem.
Twitter returned the following error message:
Sorry, that page does not exist
Cancun Carnival 2013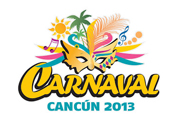 Cancun is preparing for is next carnival, to be held from February 7th to 12th. Spectators will have the opportunity to see grand floats, wild costumes and contests, as well as musical performances by artists like Lupillo Rivera, Margarita the goddess of Cumbia, Grupo Cañaveral and many more.

Festivities begin at 6:00 p.m.

Parade route:

Tulum Avenue
Americas Plaza
Tajamar Malecón

Anyone who wishes to participate in the contests must register at the Municipal Institute of Culture and Arts, or on the Facebook pages of the Instituto de Cultura en Cancún and Carnaval de Cancún. Prizes to be awarded range from $5,000 to $25,000 pesos!