Carnaval Cozumel is One of the Liveliest Parties in All of Mexico
For more than 140 years, the island of Cozumel has celebrated Mardi Gras with a mélange of cultural influences during a non-stop weeklong Carnaval festival. This year's fun stretches Feb 22nd-Mar 1st, with the biggest party on Fat Tuesday (Feb 28th).

Join the Legendary Non-Stop Party of Carnaval Cozumel
When:
The "Fiesta in Paradise," this is the party we wait for all year. Held in "The Carnaval Capital of the Mexican Caribbean," Carnaval de Cozumel is the place to celebrate Mardi Gras in Riviera Maya. Whether you choose to spend one day or all eight reveling on our neighbor island, the 40-minute ferry ride sails frequently – 6:30am-11pm out of Playa, and 5:30am-10pm back from Cozumel.
140+ Years of History Over 8 Days & Nights
Not only one of the largest, but among the oldest Carnaval celebrations in all of Mexico, Cozumel transforms into an island of live music, dancing in the streets, colorful floats, festive feasting, and boisterous parades for more than a week each season. Most events take place at Parque Quintana Roo, where parade routes begin as well, proceeding down the beachfront Malecon (Av Raphael Melgar) to the airport, then back. As for what's happening when, here's a breakdown to help plan your party: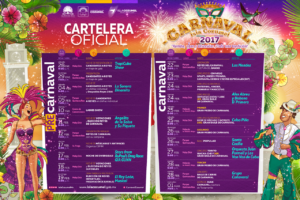 February 22nd
8pm: Opening Ceremonies & Coronation of 2017 Carnaval Cozumel Royalty
February 23rd
Children's King & Queen / Dance Competitions
February 24th
10am: Children, Infant, & Pet Costume Shows
10pm: Adult Dance Competitions
February 25th
9am: Food Court, Dancing, & Vendors
6pm: First Parade!
9pm: Grand Masquerade Costume Contest & Dance
February 26th
9am: Food Court, Dancing, & Vendors
6pm: Second Parade!
February 27th
9am: Food Court, Dancing, & Vendors
3pm: Big Color Race 5K
9pm: Tropical Caribbean Dance
February 28th – FAT TUESDAY!!!
9am: Food Court, Dancing, & Vendors
6pm: The BIG Parade!
10pm: Closing Show
March 1st
7pm: Awards Ceremony & Burning of "Juan Carnaval"
Playa del Carmen Knows How to Party, Too
It may not be as globally renowned, but Mardi Gras festivities in Playa are certainly a blast as well – and getting bigger every year! A stage in Municipal Park (20th Av, btwn 8th & 10th Streets) serves as the centerpiece, with live shows and dancing. As for the parades, they tend to start on 5th Av and Juarez, marching up La Quinta until the floats join at Constituyentes.