Sorry, there was a problem.
Twitter returned the following error message:
Sorry, that page does not exist
Carnaval de Cancún 2013
Por Verónica Toro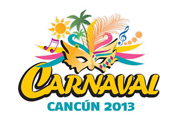 Cancún se prepara para su próximo carnaval que se llevará a cabo del 7 al 12 de febrero. Los espectadores podrán ser testigos de los concursos de carros alegóricos, comparsas y disfraces, además de espectáculos musicales con artistas reconocidos como Lupillo Rivera, Margarita, la diosa de la Cumbia, Grupo Cañaveral, entre muchos más.

Hora de inicio: 6:00 p.m.

Recorrido del desfile:

Avenida Tulum
Plaza las Américas
Malecón Tajamar

Todas las personas que deseen participar en los concursos deberán registrarse en el Instituto Municipal de la Cultura y las Artes, o a través de las páginas de Facebook, Instituto de Cultura en Cancún y Carnaval de Cancún. Habránatractivos premios que van desde 5,000 hasta 25,000 pesos.

Viva las mejores fiestas en el Caribe mexicano.