Cenotes: Magical Abysses
by Julieta Del Toro
In the ancient Mayan world, the word dzonot which later became cenote represented an abyss, the entry to other worlds filled with magic and mysticism as well as being fountains of life that provided precious liquid.
These fresh water wells were created by the erosion of limestone and are typically circular with steep walls: they begin as underground chambers and as the cavity grows, they can break through the surface of the earth. In the majority of cases they are joined with expansive complex subterranean networks that at times create passages all the way to the sea.  
There are various types of cenotes, according to their characteristics: open wells, semi-underground, underground or cave cenotes.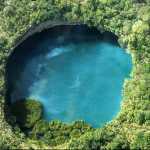 It is estimated that more than 3000 cenotes are distributed over the Yucatan peninsula. Of those, 1400 have been discovered and mapped, the most popular being the ones found in Chichen Itzá, Valladolid, X'keken and Xcaret.
You can enjoy a free tour of one of the cenotes closest to Grand Velas Riviera Maya, or if you would like to adventure out much farther on a guided tour, there are various agencies that provide this service, carrying out more complete explorations of these fantastic sites.  
Don't miss the opportunity to see and experience one of these unique marvels of the world and create unforgettable memories.
. . . . . . . . . . . . . . . . . . . . . . . . . . .