Charro Day in Mexico: The Elaborate Clothing of this Great Tradition
By Veronica Toro
Translated by Nyima Bieber

Between 1531 and 1555, Spanish Franciscan Missionary Sebastian de Aparicio was dedicated to farming his land and tending to the livestock on his Careaga hacienda in the State of Mexico. Over the years, he taught the indigenous people who worked for him to tame and train cattle and horses, despite the fact that at the time these practices were banned for common people; only nobles were entitled to work with and ride horses. Soon, however, the training of cattle and horses began to spread to all territories and haciendas, under the name of Charreria.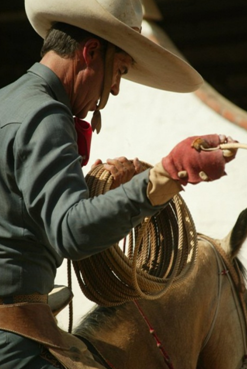 Once the use of horses became acceptable for all social classes, the practice started to grow into a discipline; in 1880, the "Charro Ponciano" (Ponciano Diaz) became famous for making Charreria, or horsemanship, into an admirable show. It was declared a "national sport" during the presidency of Manuel Avila Camacho and September 14 was named the official Day of the Charro.

Elegance and Distinction: The Formal Charro Style of Dress

Part of this great tradition is the attire. The origins of the charro suit come from the field, where the riders began to acquire skills including proper management of the lasso. Emperor Maximilian made this clothing distinctive, with luxury Mexican-style details.

Today there are 4 types:

Working Suit

– Palm, wheat or felt hat with simple shawl.
– Suede chinstrap and collarless shirt.
– Leather boots in sober tones like brown and gray.
– Tie with discreet hanging bow.
– Chaps (matching the saddle, belt, harness, trousers and tie).
– Medium silver-colored spurs.

Mid-Elegance Suit

– Felt hat with silver embroidered shawl, with figure called "Chapeta" on each side.
– Suede chinstrap with 3 loops on each sleeve and luxury brooch on the chest.
– Sash of the same hue as the shawl and tie.
– Trousers adorned on the sides.
– Belt and holster (adorned with embroidery to match the color and material of the suit).

Elegance Suit

– Used for parties and special events.
– Suit of dark colors such as navy, gray or black.
– Fine braided felt hat, decorated with tones of gray or white.
– Vest with discreet buttons.
– Plain or embroidered belt with a silver buckle.
– Black boots.

Grand Elegance Suit

– Used in ceremonies of great importance.
– Very finely cut black or gray suit with fine buttons.
– Fine braided felt hat.
– Belt and tie to match the rest of the suit.
– Vest with discreet buttons.
– Belt with silver belt buckle (plain or engraved).
– Revolver with gold, silver or pearl with dragon handle.
– Black boots.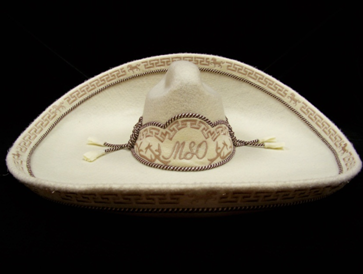 Women in Charreria: Las Chinas Poblanas

Unlike men's Charro attire, "china poblana" clothing for women is used for all types of events. It consists of:

– Discreetly low-cut blouse with short sleeves, embroidered with silk, beads or colored sequins.
– Cloth or flannel skirt with at least one ruffle, embroidered with beads or sequins.
– Layers of lace visible at bottom of skirt. The use of a petticoat is indispensable.
– Silk shoes with buckles to match the embroidery of the skirt. Boots are prohibited.
– Shawl to match the color of the skirt.
– Fine felt hat with suede, gold and/or silver chapetas.
– Sash at the waist, tied in a bow at the back.
– Hair pulled back in a low bun, adorned with a fabric or lace bow, or two braids decorated with ribbons.
– Shiny gold earrings and bracelets.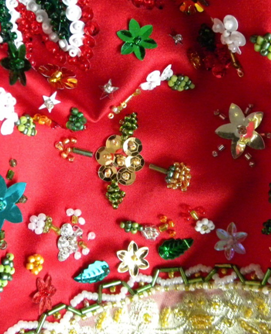 Today, Charreria has become known in many places, both nationally and internationally. This has made it not only a sport, but also a cultural icon that distinguishes our country. As Spanish poet Manuel Carrasco Benitez says, "to dress like a Charro is to dress like Mexico".