Lujo y excelencia: compromiso renovado por Grand Velas Riviera Maya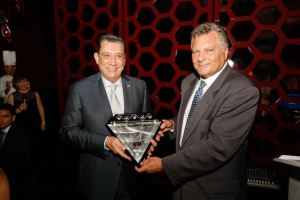 Lujo y excelencia: compromiso renovado por Grand Velas Riviera Maya
Al hacer entrega por segunda ocasión del premio 5 Diamantes, Tony Perrone -Gerente Nacional de la AAA, comentó que Grand Velas Riviera Maya marca hoy en día, nuevos estándares en la industria hotelera para conseguir este codiciado reconocimiento.
De las cerca de 60  mil propiedades y restaurantes visitados año con año por la American Automobile Association (AAA), sólo un 0.25% tienen el orgullo de ser incluidos en la selecta lista de propiedades 5 Diamantes. Altos estándares de calidad, servicio de clase mundial, iluminación y diseño arquitectónico impecables, así como instalaciones de primer nivel, son puntos que la AAA califica al seleccionar a los integrantes de su exclusiva lista.
Tal es el caso de Grand Velas Riviera Maya, que por segundo año consecutivo recibe este reconocimiento de manos de Tony Perrone –Gerente Nacional de dicha asociación. Durante la ceremonia oficial celebrada el 6 de enero del presente año, Perrone comentó: "Este hotel está marcando los nuevos estándares de 5 Diamantes en la industria hotelera para los próximos años." A la par, Fernando García Rossette, Director General de los resorts Grand Velas en Riviera Maya y Riviera Nayarit añadió que  con este premio, el hotel se consolida como uno de los mejores resorts de México y de todo el continente".
A sólo tres años de su apertura, este hotel ha recibido el aplauso de varias autoridades de la industria hotelera de la talla de Virtuoso, Leading Hotels of the World, Leading Spas of the World y Condé Nast.
Conozca más acerca de este resort y su tour culinario, el Spa de clase mundial y el renombrado Todo Incluido de Lujo.