Sorry, there was a problem.
Twitter returned the following error message:
Sorry, that page does not exist
Concurso Cásate Conmigo en la Riviera Maya, ¡todo un éxito!
Por Verónica Toro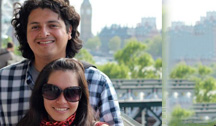 El pasado 30 de noviembre, se llevó a cabo el enlace matrimonial entre Luis Esteban Islas y Rosa Denisse Hernández, ganadores del segundo concurso "Cásate conmigo en la Riviera Maya", quienes unieron sus vidas a través de rituales del pueblo maya, en compañía de sus seres más cercanos.

El romanticismo y la emotividad se percibían en cada rincón del lugar; las miradas de los novios expresaban alegría, amor y satisfacción. Todos los momentos de ansiosa espera, se culminaron en sonrisas, baile, diversión y regocijo tanto para los enamorados como para cada uno de los presentes en esta celebración.

A los recién casados, les deseamos lo mejor en esta nueva etapa de su vida que comienzan juntos.

Gracias a todas las personas que siguieron el proceso y la transmisión del evento en vivo.