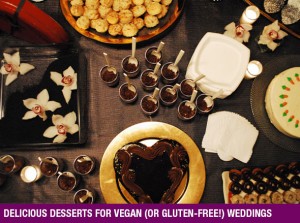 A wedding doesn't quite feel like a wedding without a delicious slice of cake, but if you have food allergies or follow a strict diet, sometimes the evening's sweetest moment can leave you feeling left out. Don't pass on dessert (it's bad luck, after all!) and instead turn to the latest in culinary wedding trends: vegan and gluten-free wedding cakes.
Whether you or your fiancé is vegan, your grandmother is gluten-intolerant or you're just yearning to explore the abundance of non-traditional options that have popped up over the years, you're in luck. These sweet treats aren't the cardboard-textured "healthy" desserts of the past. Instead, there are artisanal bakers across the country aiming to satisfy the sweet tooth of every one of your guests, regardless of their dietary restrictions.
Consider New York City's Vegan Divas. Founder and friend Fernanda Capobianco creates gourmet pastries with the same taste and quality as those from traditional bakeries but with a healthy twist: everything she sells is vegan, animal-free and completely organic. From rich chocolate layer cakes to baked donuts and her signature gluten-free chocolate mousse, these sweets prove, as Fernanda says, "You don't have to be a hippie to be healthy!"
If you're looking for a wedding cake in Los Angeles, look no further than Erin McKenna's Babycakes. All natural, organic and free of wheat, gluten, dairy, casein and eggs, these desserts are so delicious your guests won't miss a thing. Whether you're stacking donuts on a dessert bar or slicing into one of their hand-frosted wedding cakes in flavors like carrot and red velvet, be sure to have enough for seconds! And if you needed extra convincing from a higher authority, Babycakes is also certified Kosher.
Weddings are all about gathering together with friends and family to celebrate the new life you and your fiancé will be starting together. What better way to spread the love than by serving up a mouth-watering dessert that every one of your guests can enjoy? As Charles Schulz said, "All I really need is love, but a little chocolate now and then doesn't hurt!"
As always…more to come!
(Cross-posted from: Delicious desserts from Vegan Divas)