Sorry, there was a problem.
Twitter returned the following error message:
Sorry, that page does not exist
Dolphins & Pristine Snorkeling in Garrafón Natural Reef Park
Home to one of the most vibrant & prolific coral reefs in the world, Garrafón Natural Reef Park welcomes visitors to Isla Mujeres with thrilling zip-lines, an open bar, buffet lunch, kayaks, snorkeling, and swimming with the dolphins.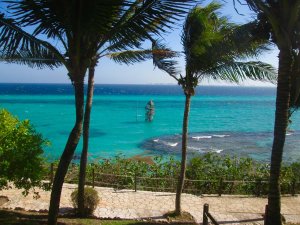 A quiet, scenic retreat just 4.5 miles off the coast of Cancun, Isla Mujeres is its own piece of paradise. Home to a vast array of protected sites like the otherworldly coral reefs in Garrafón Natural Reef Park, no trip to Riviera Maya is complete without catching the ferry from Playa Tortugas, less than an hour from Playa del Carmen. A wide range of ticket and tour options are available for exploring the many wonders of the park, from the basic Royal Garrafón Tour, to the all-inclusive VIP experience. As for the ferry ride, you need not worry about a thing but getting to the pier, as the ride itself is included in your admission package.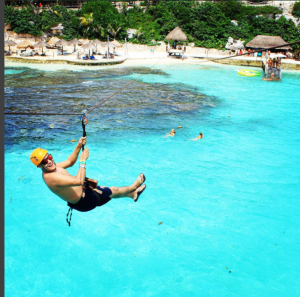 Royal Garrafón Tour
An all-day pass to the park's attractions, this $89 deal includes a continental breakfast on the ferry, an open bar (ages 18+), buffet lunch, along with as much kayaking, swimming, zip-lining, and world-famous coral reef snorkeling you can fit into the afternoon. Just be sure to save some time for lounging in the hammocks, shopping, or taking a scenic bike tour of Isla Mujeres.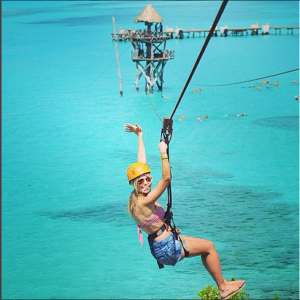 Royal Garrafón VIP + Dolphin Royal Swim VIP
This package has it all. The international lunch buffet is upgraded, with VIP Jacuzzi lounges and premium drinks. You'll have full access to the towering cliffs, sculpture garden, Mayan temple site, and immaculate views of Punta Sur. Then there are the dolphins. The Royal Swim VIP puts you in the water with the magical creatures for a whole hour of hugs, handshakes, and getting to know each other.
These are the most basic and complete packages available, with lots of options in between to customize your time at Garrafón.