Exquisite cuisine with Grand Velas!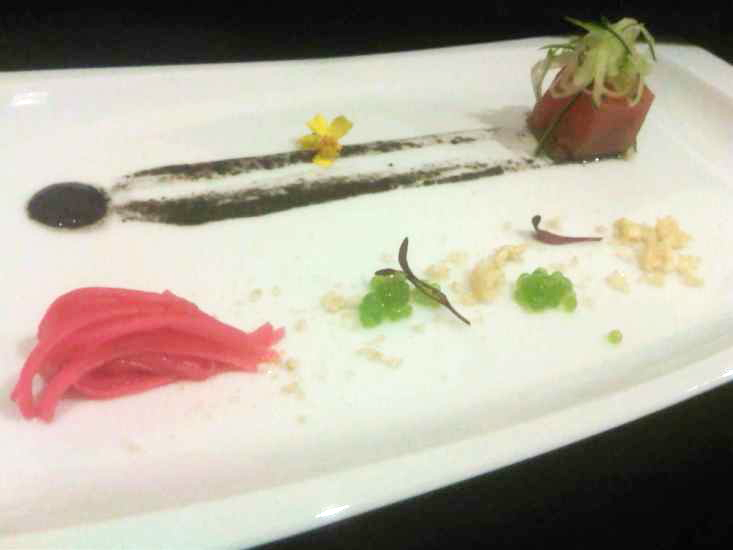 Innovative, fresh, healthy and delicious: check out this unique recipe by Grand Velas Riviera Maya Chef Daniel Garcia. Featured at our gourmet Mexican restaurant, Frida, this dish was the star of one of the culinary demonstrations held during Food Blogger's Camp 2011. 
 Fresh Tuna Tiradito in a Black Aguachile and Pickled Onion Sauce, Green Aguachile
Caviar and Crispy Pork Rinds
 Recipe for 1 person

Aguachile:
Ingredients:
200 g Fresh tuna
20 g Finely chopped garlic
50 mls Olive oil
50 g Green tomatillo tomatoes
20 g Fresh coriander
10 g Fresh Serrano chili
20 g Avocado
20 g Squid ink
50 g Freshly grated cucumber
50 g Pickled onion
100 mls Lime juice
10 g Whole garlic
30 g Salt
Blend the tomato with the skinned and seeded cucumber, onion, garlic and avocado. Blend in water, add the lime juice and season with salt and black pepper. Strain and add the squid ink. 
Marinate the fresh tuna in olive oil with salt, pepper and garlic for at least 2 hours, then thinly slice.