Exquisite recipe from Riviera Maya: Tuna tartar
Dining at Grand Velas Riviera Maya is a culinary tour of five gourmet restaurants, each with uniquely talented chef.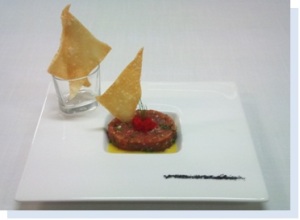 Please be welcomed to discover an authentic goumet experience that will delight your senses.
To bring a little bit of Grand Velas to your table, we share this simple recipe:
TUNA TARTAR
Ingredients
400 grs finely chopped tuna
60 grs boiled egg whites
30 grs chopped chives
1 pza  bell pepper
50 grs Paprika
50 mls Srirasha sauce
20 mls Sesame oil
20 mls Garlic oil
40 mls Lemon juice
30 grs Chopped ginger
20 grs Onion
1 pza Mango
30 mls mirin rice wine
30 grs White sugar
15 grs butter
15 grs Shrimps roe
5 grs Volcanic salt
12 pza Fried wonton
Procedure
In a bowl add the tuna, white eggs, chives and bell pepper. Season with paprika, salt, pepper, lemon juice, oils and srirasha sauce, and leave aside.
For mango culis: Add in a casserole the butter, garlic and ginger until ingredients get a brownish color. Add mango and blend all the mixture with mirin rice wine, water, salt, pepper, sugar and strain. Serve an garnish with fried won ton chips.
Read more about Grand Velas Culinary Tour!