Extreme Vacations for Adventurous Tourists

Mexico is a country with a wide variety of natural wonders and in addition to providing a seemingly-endless number of activities these places are incredibly beautiful in and of themselves. If you are an adventure lover and enjoy being out in the great outdoors you simply have to visit the Riviera Maya for some extreme vacations.
The Riviera Maya has become one of the most significant tourist destinations in the country. It encompasses protected areas where you can observe the native flora and fauna of the region in their natural habitats, beautiful beaches and crystal clear waters where you can practice various water sports.
The first obligatory stop is Puerto Morelos, a small town which despite its size has much to offer. Here you have the opportunity to dive in Reef National Park; this area forms part of the Great Belt of the Western Atlantic Reef which is considered the world's second largest barrier reef. It is the protected home of elkhorn and staghorn coral as well as marine turtles.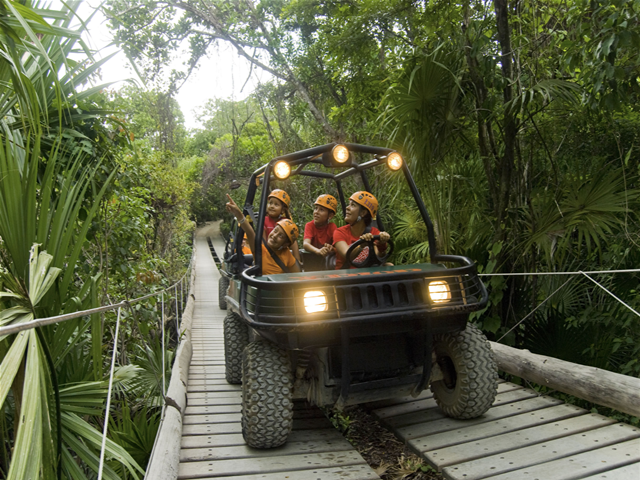 The second stop you have to make is Playa del Carmen (one of my favorite places in Mexico). This city has such a unique vibe that will automatically captivate you; you'll feel enamored with the lifestyle. Here you can learn a lot about the history of the Mayans and enjoy beaches characterized by white, talc-like sand; and don't forget to visit Xcaret eco-park.
Now if you're looking for something much more extreme you can't miss Xplor; a park where you can go on zip lines, drive amphibious all-terrain vehicles, go rafting and swim in underground rivers. The park now offers the experience of taking the tour at night, aided by the light of torches and the stars which will illuminate your path through the caves and over bridges.
So what are you waiting for? Visit the Riviera Maya and enjoy unparalleled adventure. There is just so much to see and do in this Mexican Caribbean paradise.
¿Buscas la versión en español?