If flavors could speak…..…
Lion's paw scallop cevice and Progreso-style octopus with a touch of oregano and max chili, accompanied by purée of avocado with garlic and black chili oil.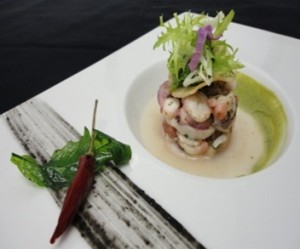 Ingredients | Ceviche
3 oz. cooked octopus
2 oz. Lion's paw scallop- raw and removed from shell
3 tbs. lime juice
¼  cup finely sliced red onion
1 tsp. finely chopped habanero chili
2 tsp. finely chopped garlic
2 tsp. finely chopped cilantro
½ tsp. oregano
Salt and pepper to taste
Ingredients | Avocado purée
1 medium-sized ripe avocado
1 ½ tbs. cream
1 tsp. lime juice
½ tsp. finely chopped garlic
Salt and pepper to taste
Ingredients | Yucatan black chile oil (Optional)
1 ½ tbs. olive oil
½ tbs. Yucatan black chile paste
Ingredients | Garnish
2 big leaves of epazote (Mexican herb) or oregano
2 dried max chilis or other small, dried chili
1 tbs. oil for frying
Directions
Mix all ceviche ingredients in a medium bowl and allow to sit for 30 minutes.
In a medium bowl mash the avocado and pass through a sieve so that it becomes a fine purée. Add the rest of the ingredients and mix well.
In a blender mix the oil with the Yucatan black chili paste for 30 seconds until well blended.
For the garnish, use a mold to serve the ceviche as shown in the photo, decorating it with a chip and frisée lettuce if desired. To one side, make a line of black chili oil, and on the other side place a mound of avocado purée. Serve with chips.
Sommelier recommendation for wine pairing:
Dopff, Au Moulin, Gewürztraminer, Alsace, 2009
This wine has sweet and acid notes, creating the perfect balance to the spicy flavors and seafood in the dish.
Our resorts:
Grand Velas Riviera Maya | Grand Velas Riviera Nayarit | Velas Vallarta | Hotel Casa Velas