Sorry, there was a problem.
Twitter returned the following error message:
Sorry, that page does not exist
Grand Velas Riviera Maya Boasts Dedicated Butler-Concierge Program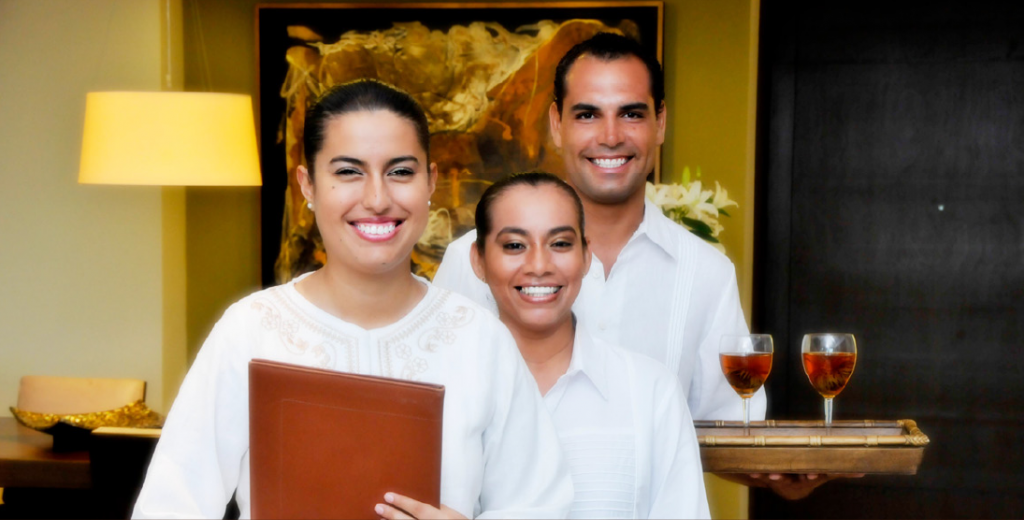 Luxury All-Inclusive Resort, Grand Velas Riviera Maya Boasts Dedicated Butler-Concierge Program
Personal Butlers at Grand Velas Riviera Maya Will Even Iron A Guest's NewspaperGrand Velas Riviera Maya Boasts Dedicated Butler-Concierge Program

Playa del Carmen, Mexico (March 26, 2013) – Luxury travelers are accustomed to attentive service. But guests of the 90 ultra-luxury Grand Class Suites of the "Beyond All-Inclusive, Beyond All-Compare" Grand Velas Riviera Maya resort receive a level of service – one might say devotion — usually reserved for Britain's landed gentry: their own personal butler-concierge to grant every wish, serve every need.

The Grand Velas Riviera Maya Resort, set on 82 lush acres just a short drive from Playa del Carmen, offers gracious, luxurious living with 491 suites ranging in size from 1,184 to 3,767-square feet, and arguably has the most extensive cachet of sumptuous and personalized amenities of any all-inclusive resort in the Caribbean and Mexico. Oceanfront, in-suite plunge pools, whirlpool baths, 24-hour in-suite dining, espresso machines, 42" plasma TVs, an 89,000-square foot spa — the region's largest — and a state-of-the-art fitness center with personal trainers, are just some of the many special touches Grand Velas guests have come to expect.

The resort's butlers represent the ultimate in personal pampering, and Grand Class guests enjoy just such special attention, not only from their own personal butlers, but also from an overall staff to guest ratio of three-to-one. Grand Class suites are the most in-demand and are routinely the first ones booked.

The Grand Class Butlers perform many functions, from simple to the uniquely personal: unpacking luggage, securing dinner reservations, arranging local sightseeing, airport departure and transfers, securing spa appointments, picking up and delivering dry cleaning, planning a last-minute surprise, arranging for purchases to be shipped to the guest's home, and so much more. And yes, just as their English counterparts do, they will iron the morning newspaper if so desired.

"Our guests ask us for many things, and we do everything within our means to satisfy their requests," said Fernando Garcia Rossette, managing director of Grand Velas Resorts. "Guests have asked our butlers for everything, including acquiring an elephant for a wedding with less than 24 hours notice, acquiring an unusual orchid from another country, preparing special foods, and even dancing in order to get a baby to fall asleep."

The butlers are gracious and distinguished ambassadors of the resort. They are multi-lingual and come from a wide variety of backgrounds. They receive 180 hours of classroom training and 60 hours of service training before they attain true 'ambassador' status. They offer a personalized service that is intended to exceed guests' expectations, and to obtain complete guest satisfaction while giving timely and efficient follow-up to guests' needs.

Sharing jungle and beach settings, Grand Velas Riviera is the only family friendly resort in the Mexican Caribbean to have received Five Diamonds by AAA. Set on more than 80 acres of protected mangroves, Grand Velas boasts 1,000 square feet of pristine white sand beach.

Grand Velas is one of the few resorts in the region to offer a culinary tour, offering Michelin star quality dining in five gourmet restaurants created by world renowned chefs, including disciples of the famed Arzak of Northern Spain and a chef recently named Maitre Cuisinier of France, one of only 300 in the world. Its restaurant Frida, named for artist Frida Kahlo, has won numerous awards for its "new" Mexico cuisine featuring fusion elements from all of the country's regional cuisines, plus novel features including a margarita trolley and mescal menu.

This singular property offers three levels of ambience: Zen Grand Suites surrounded by flora and fauna of the Yucatan Peninsula's jungle; Ambassador Class, a favorite of families with ocean view, and the most in-demand – Grand Class.

The resort also offers a world-class convention center, the largest in the region, plus in-house and off-property sports and adventure options such as snorkeling, scuba diving, golf, dolphin swims, and jungle excursions aboard all-terrain vehicles.

Grand Velas Riviera Maya is a proud member of Leading Hotels of the World.

Grand Velas Resorts' all-inclusive rates also include suite accommodations, a la carte gourmet meals at a choice of specialty restaurants, premium branded beverages, 24 hr in-suite service, fitness center, taxes and gratuities, and more.

For more reservations or more information, please call 877-418-2963, or visit rivieramaya.grandvelas.com.

About Grand Velas Riviera Maya:
Featured in Forbes' roundup of the 10 Coolest All-Inclusive Resorts, the AAA Five Diamond Grand Velas Riviera Maya, an all-suites and spa resort located five minutes from Playa del Carmen, is the latest and most sophisticated iteration of the ultra-luxury, all-inclusive resort experience. This Leading Hotels of the World designated resort is the preeminent one of its class boasting 491 suites, each more than 1,000 square-feet, in three separate ambiances– premium ocean-front Grand Class Suites with terrace plunge pools for families with children 12 and up, family-friendly ocean-view Ambassador Suites and Zen Grand Suites embraced by the flora and fauna of the Yucatan Peninsula's jungle. The resort presents a gastronomic tour of the Yucatan, Europe and Asia offering seven restaurants with world-class chefs from France, Spain and Mexico; dedicated butler service for each guest, and the region's largest spa sanctuary at over 89,000 square-feet specializing in signature treatments inspired by ancient cultures from around the world. The spa was named "Best Spa" in the world by Virtuoso and also earned a SpaFinder Readers' Choice Award. The resort was designed by lauded Mexican architecture firm Elias and Elias and features the sleek and modish interiors that fuse the serenity of the Caribbean with the vibrancy of Yucatan cultures.