Sorry, there was a problem.
Twitter returned the following error message:
Sorry, that page does not exist
Grand Velas Riviera Maya Chef Wins Mexico's 'Chef of the Year'
Xavier Perez Stone Takes Home First Place in National Culinary Competition at 11th Annual Alimentaria México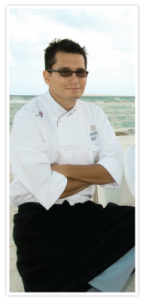 Playa del Carmen, Riviera Maya, Mexico (June 14, 2012) – Grand Velas Riviera Maya Chef Xavier Perez Stone was recently crowned Mexico's "Chef of the Year." After semi-final competitions completed throughout the country, the Grand National Final was held June 6-7th at Centro Banamex in Mexico City during the 11th Annual Alimentaria Expo Mexico, the country's largest food & beverage trade show. Perez Stone is the chef of award-winning Cocina de Autor restaurant at the Grand Velas Riviera Maya.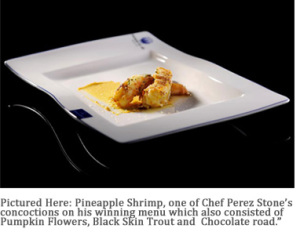 Wowing the judges in a blind taste test with his black-skin trout and pineapple-colored shrimp, amongst other perfect plates, Perez Stone was awarded top marks based on flavor, preparation and presentation. The panel of judges included recognized personalities in the Mexican culinary world such as Enrique Olvera, chef of Mexico City's Pujol – one of San Pellegrino's fifty best restaurants in the world; Chef Alejandro Ruiz Olmedo, one of Mexico's top chefs as well as one of the world's foremost experts on regional Oaxacan Cuisine; and acclaimed Mexican restaurateur Daniel Ovadia; among others.
"We are so proud of Chef Perez Stone being named Mexico's Chef of the Year," stated Patrick Louis, corporate executive chef and F&B director at Grand Velas. "Comparable to the finest free-standing restaurants in any of the world's leading culinary capitals, our restaurants are staffed with the most talented and acclaimed chefs."
Cocina de Autor has racked up numerous awards, including BBVA Bancomer's Gourmand List of the top 50 restaurants in Mexico and one of the top 20 dishes worldwide in 2011 by James Beard winner Brad Johnson. Largely in part to its culinary program, the resort was recently featured in Forbes' roundup of the 10 Coolest All-Inclusive