Sorry, there was a problem.
Twitter returned the following error message:
Sorry, that page does not exist
Grand Velas Riviera Maya is amongst the best in the world
by Manuel Calderón de la Barca
Expedia, the biggest online travel company, included Grand Velas Riviera Maya in their select list of the best hotels worldwide. Also included were, Casa Velas and Grand Velas Riviera Nayarit, of the Velas Resorts Family.
Based on over 500 thousand evaluation questionnaires received each year, Grand Velas Riviera Maya was one of the 500 hotels selected from the 130 thousand properties offered by Expedia throughout the world, and was highlighted for achieving the highest ratings.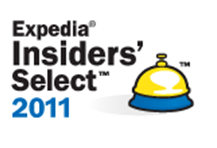 "Grand Velas Riviera Maya has been identified by Expedia´s clients as a hotel which constantly offers great quality on their services, an exceptional experience to the guest, and a good price-quality ratio, gaining a place on the Insiders´ Select list as a testimony to their permanent commitment to excellence" highlighted by Gary Fritz and Fonseca Dhiren, from Expedia Partner Services Group.
Expedia´s Insiders Select is an annual prize which recognizes the best hotels available in the global market, judging from the experiences of Expedia´s clients.
"To provide our guests with superior service is a priority at Grand Velas Riviera Maya. We are pleased that our efforts have been recognized by Expedia´s travelers, and we expect to extend this high level of service to more clients", said Fernando García Rossette, General Manager.
This exclusive list shows the great selection available for travel destinations and hotel establishments, and offers travelers a powerful tool to find the perfect hotel for their stay. As part of this elite group of hotels, Expedia will issue a plaque to Grand Velas, accrediting it as a member of such exclusive list of properties throughout the world.
About Expedia:
Expedia, the biggest online travel company, included it amongst the resorts that offer the best quality in their services, as well as an exceptional guest experience, from over 130 thousand properties evaluated throughout the world, via their Insider´s Select publication.