Grand Velas Riviera Maya, reconocido escenario de grandes eventos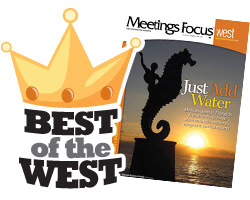 por Vanessa Martínez del Río

Grand Velas Riviera Maya, reconocido escenario de grandes eventos
El servicio de clase mundial, tarifas, suites y amenidades, son algunos de los aspectos que la prestigiosa revista líder en el sector de Grupos y Convenciones, Meetings Focus | West, reconoce en Grand Velas Riviera Maya. Por ello, le ha nombrado Best of the West 2012, tras haber sido elegido por los suscriptores de este reconocido medio impreso.
Related
Luis Eduardo Arellano Cuevas

Riviera Maya is by far the best destination in Mexico, its repertoire of attractions has options for all tastes and occasions, from groups of friends…

Luis Eduardo Arellano Cuevas

Visiting Riviera Maya is a unique eco-tourism experience and a delight for all nature lovers, especially for one of its hidden treasures that await buried…

Meyrilu Rodríguez

Snippet: Chile Habanero is the denomination of origin of the Yucatan Peninsula, which guarantees premium quality and characteristics.