Halloween in Playa del Carmen Fills the Streets with Family Fun
Families, couples, & young adults looking for costume parties by the beach love spending Halloween here in Riviera Maya. That's because we've got it all, from a festive parade for everyone to sexy soirées at the hottest bars & clubs in Playa.
The Family-Friendly Fun of Halloween in Playa del Carmen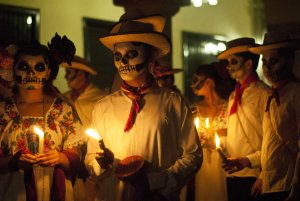 Few holidays embody the spirit of Mexico quite like Halloween. In Riviera Maya, this means families filling the streets in costume at sunset and young adults packing clubs for costume parties through sunrise, followed by two more days of celebration during Dia de los Muertos. What makes all this uniquely Mexican? It's the perfect chance to express our joy for life and reverence for the dead. Unlike the rest of the world, the holiday doesn't mean trying to scare people exactly, but celebrating the lives of all we love who have passed. This is done a number of ways, from constructing ornate altars across town to costumed parades, festively decorated storefronts, bakeries steaming with the scent of seasonal sweet breads called Pan de Muerto, and colorful parties on the beach.
Where to Go When
Families will want to head to 5th Avenue before sundown to join the fun, as kids, adults, and their dogs fill the cobblestone street until 11pm. The most frequented stretch is the mile between Av. Benito Juárez and 34th Street, just don't forget to bring candy for the kiddos you encounter along the way. As for the after-party, 12th Street is the place to be, from 10th Avenue to the beach, as well as countless bars and clubs throughout Playa, starting around midnight.
Festival of Life & Death Traditions at Xcaret Park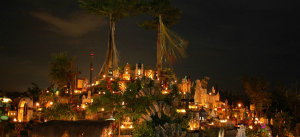 October 30th-November 2nd
The 11th Annual Dia de los Muertos Festival at Xcaret Park is a great way to familiarize yourself with the rich culture and tradition behind this special time of year in Mexico. In fact, the live music, arts, dance, and Yucatan dining fun overflows into the City Theater of Playa del Carmen for an additional four days, November 3rd-6th.