Handcrafted Ceramics in the Riviera Maya
Pottery in Mexico developed during the pre-Hispanic period, and after the Spanish conquest European techniques, designs, and raw materials were combined with those of the natives. Beyond everyday objects, the items were used for decoration, religious and mortuary rituals, and symbolic representations. Today, ceramics are still produced using traditional techniques, and various Mexican cities have their own renowned pottery styles, such as the Talavera of Puebla, the Majolica of Guanajuato and black clay of Oaxaca.
Traveling to Mexico offers a great opportunity for finding unique ceramic pieces; whether for decoration or to display at the table, your home can feature the craftwork of Mexican artisans.
While a good number of craft shops can be found in the destination, the Grand Velas Riviera Maya boutique showcases two beautiful handcrafted ceramic brands from Guanajuato: Javier Servin and Majolica Santa Rosa. Both offer handmade tableware such as dishes, cups and glasses among other exceptional items.
The Majolica ceramic comes from the Spanish island of Mallorca, which is where it gets its name. The sophisticated pieces are made using a completely manual process, resulting in unique handmade items. Majolica Santa Rosa is a family business whose colorful designs, adapted to the Mexican style, have made it very successful.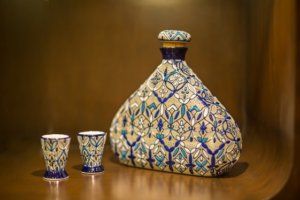 Javier Servin is a ceramic artist and master craftsman from Guanajuato. He began his studies in architecture and became an apprentice in a ceramic workshop to fund his career. On this journey he discovered his passion. Through his commitment and love for this art he now owns six family workshops and his imaginative designs are widely renowned.
These unique ceramic pieces are just one of the many reasons to visit the resort's boutique offering clothing, accessories, and sculptures. Most pieces are from talented and creative Mexican artists and designers.