Riviera Maya Horseback Rides On the Beach, Under the Moon & Stars
The only things more pampered than guests at Rancho Baaxal are the 12 horses that call the private jungle ranch home. Book an exclusive Full Moon Ride (Feb 9-11th, March 11-13th) or Day Tour (Mon-Sat) & live out your horseback beach fantasy today.
Moonlit Caribbean Romance on Riviera Maya Horseback Rides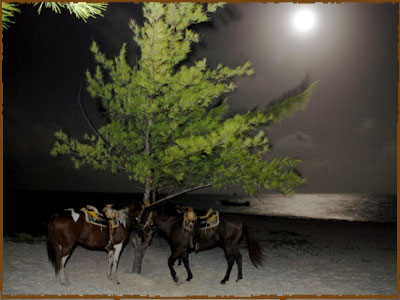 Where:
Maroma Beach
Just 20 minutes north of Playa del Carmen, horseback riding tours and a genuine love for each animal make the non-profit enterprise of Rancho Baaxal a true local treasure. Each of their 12 horses is treated like family, rescued from unfortunate circumstances to live a life of seaside luxury in Riviera Maya. Riders of all skill levels are invited to meet these majestic creatures, pair up with one that fits your experience, and delight in the beachfront tour you've always dreamed of taking. In fact, the sandy stretch you'll traverse (Maroma Beach) is consistently ranked among Travel Channel's "Top Ten Most Beautiful Beaches in the World."
The Otherworldly Magic of Full Moon Tours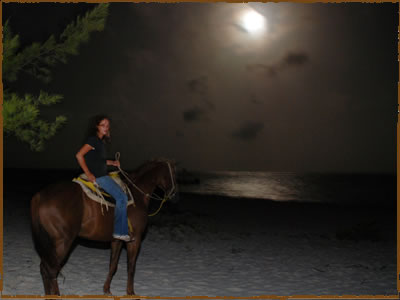 8:30pm: February 9-11th, March 11-13th
No more than three nights a month, Rancho Baaxal offers their exclusive Full Moon Tours. Depending on the weather, these immersive rides are held the night before, night of, and night after each full moon. The trek consists of 1.5 hours on horseback, navigating thick jungle, through clearings flush with fireflies, and along moonlit beaches. Halfway through, you'll enjoy a bonfire by the water, with wine, beer, soda, and light snacks. This is the perfect time to bask in the sea of stars overhead, as the Caribbean laps the shore beside you.
Equally Dreamy Day Tours
Monday-Saturday
For properly sunny experience, the ranch runs three daily tours in cooler months (9:30am, 12pm, 3pm: October-April), and two each day in the summer (9:30am, 3pm). These are the rides for you if you want the full jungle wildlife experience, with frequent sightings of iguanas, turtles, wild pigs, porcupines, exotic birds, and swarms of butterflies in every color imaginable.