The "Magic Pueblo" of Bacalar is a Riviera Maya Gem of Nature & History
There are only 111 "Pueblos Magicos" in all of Mexico, & Bacalar is one of them. Three hours south of Playa, the Riviera Maya treasure boasts jaw-dropping natural wonders, centuries of history, & some of the most authentic Mexican food you'll find.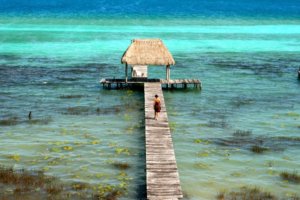 Explore the Wonders of the "Magic Pueblo" of Bacalar
One of 111 cities dubbed "magical" national treasures by the Mexican government, this rustic village three hours south of Playa del Carmen is exactly that – an inspiring nexus of unparalleled natural beauty, rich history, and preserved cultural character. In the Riviera Maya, Bacalar bears the distinction of being the first city the Spanish conquered and held in 1543. It was then sacked by pirates in the 17th century, taken back by the Mayans in 1848, reclaimed by Mexico in 1902, and finally named a "Pueblo Mágico" in 2006. Other local distinctions include the world's deepest cenote, as well as the largest collection of stromatolites – the oldest form of life on Earth.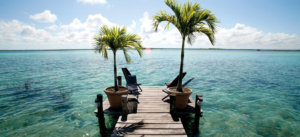 The Ancient Mayan "Lake of Seven Colors"
Filled by the Yucatán's countless underground rivers, Laguna de Bacalar has been revered as a natural wonder for centuries. The Mayans called it the "Lake of Seven Colors" in honor of it's painterly beauty – crystal clear waters ranging from dark blue to aquamarine, surrounded by white sands, golden reeds, and thick green jungle. All this makes it a dream for recreationists, best explored by kayak, scuba, or snorkel.
Authentic Eats by the Depths of Cenote Azul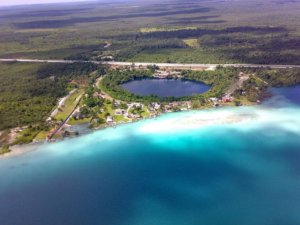 Measuring 300-500 feet deep, Cenote Azul is believed to be the largest, deepest cenote on the planet. It's also home to a delectable, colorfully decorated waterfront restaurant, serving some of the most deliciously authentic food in the Mexican Caribbean. Don't leave without trying the chilaquiles (tortilla chips tossed in chili sauce, topped with fried egg, onion, and sour cream), or fresh-caught ceviche (seafood soaked in citrus juices).
Centuries of History Await at Fort Bacalar
One step in town and you'll see the city is just as wondrous as its natural environment, with a nearly 300-year-old fort at its heart. Fuerte de San Felipe Bacalar was built to protect the town from pirates in the early 1700s, and its canons still point out to sea. Admission to the fort is modestly priced, accented by an informative museum chronicling the region's history.