For your Reading Pleasure: Maya Gods and Monsters
Here in the Riviera Maya we are guests in the magical, mystical world of the Mayas. What better way to learn more about this ancient culture and its gods than with a colorful illustrated book?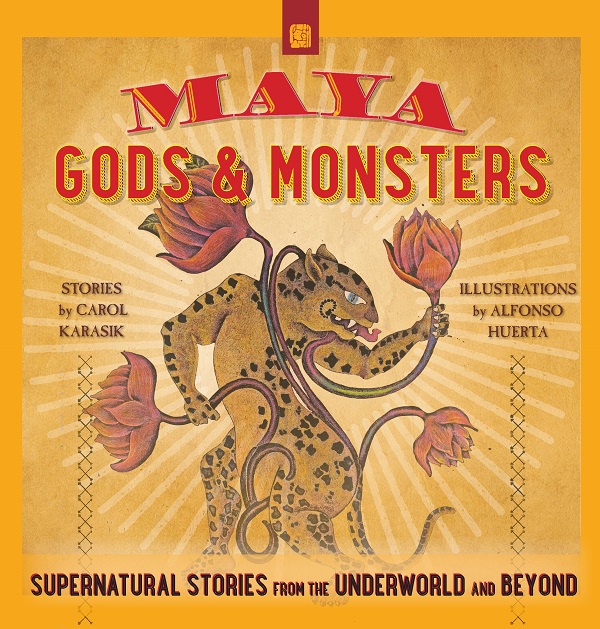 Writer Carol Karasik presents Maya Gods and Monsters, a collection of supernatural stories from the underworld and beyond with illustrations by Alfonso Huerta.
Check out the book's release below – we're looking forward to reading it! If you'll be visiting the area any time soon (or even if you have no plans to do so), it would be a great way for both young and old readers to connect with this fascinating part of world history.
Join Chak the Rain God, Water Lily Jaguar, the Horrible White Bone Centipede, and a panoply of gods as they cavort through the ancient Maya world into the present day. Through captivating stories and lush illustrations, Maya Gods and Monsters draws on ancient myth and lore of the Maya people and gives life to wild and quirky gods, magical monsters, and strange creatures.
Fifteen stories blend the natural and the supernatural into one alluring realm, reflecting the heart of the Maya people—one of the greatest civilizations in the New World.
Karasik is a deft storyteller, relaying extraordinary tales with a humorous and often lyrical voice. She includes a concise and beautiful history of the Maya along with an enchanting account of the myriad sources for her stories. This auxiliary content provides context and easy access to a complex creation narrative. Maya Gods and Monsters will appeal to young adult and adult readers with an interest in world cultures and multicultural folktales as well as New Age enthusiasts attentive to Maya culture, Mexico, and Central America.
Carol Karasik has published a variety of books on Maya culture, notably Mayan Tales from Zinacantán: Songs and Stories from the People of the Bat and the award-winning Maya Threads: A Woven History of Chiapas. Her popular book The Turquoise Trail reveals the ancient connections between Mesoamerica and the Southwestern United States. She has also explored indigenous myths and literature through documentary films, multi-media theater, and a recent novel, The Drum Wars. Maya Gods and Monsters is her latest effort to introduce broad audiences to the cosmic vision of the ancient and modern Maya.
Alfonso Huerta is a native of Mazatlán, Sinaloa, Mexico. He drew on primary sources as inspiration for these illustrations, reworking them to make them not only faithful to the Maya originals, but also flavored with his own sense of the magic of the indigenous world. He currently lives and works in Austin, Texas.
Publication Date: April 1, 2017
ISBN: 978-0- 9972168-5- 1
Category: Literature, Folklore, and Mythology
LC#: 2016954660
Price: $16.95, trade paperback
128 pages: 75 color illustrations, map, glossary, and pronunciation guide
8 X 8 trim size