Meet Claudia Muñiz – E-Concierge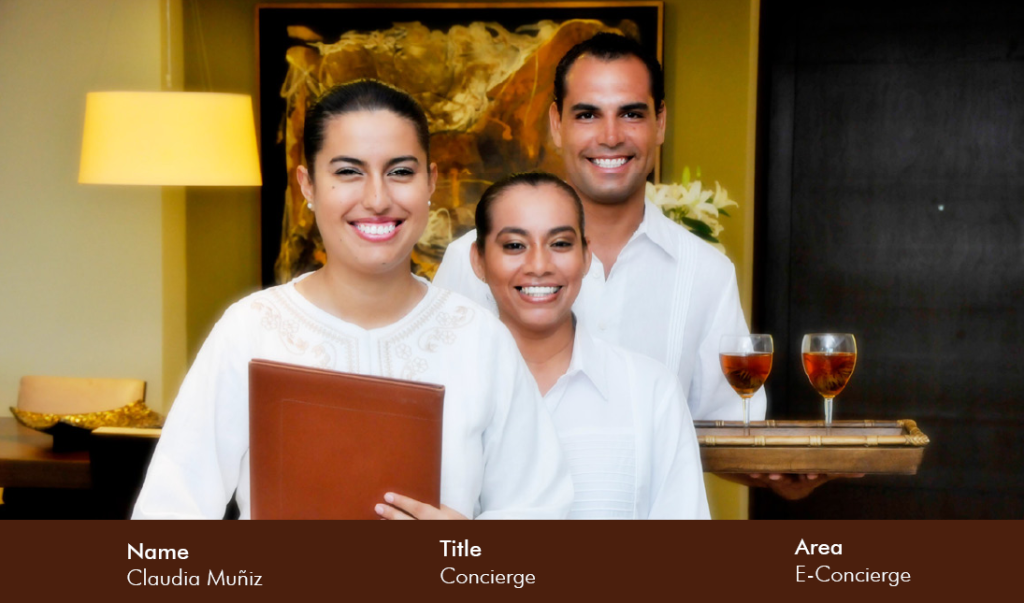 Working for Grand Velas Riviera Maya for:
2 years 2 months

What are your main activities?
I'm the pre-arrival guest Concierge. I arrange the amenities included in the guest´s package. I'm in close contact with travel agents in order to accommodate the guest's needs and special requests: Transfers, birthdays, anniversaries, allergies, amenities and other requests.

What is your main motivation every day for carrying out your duties at Grand Velas?
What encourages me the most is the idea of making a vacation dream become a memorable experience in our guest's life.

What are the details you take care of when you are in contact with guests?
That every amenity and service delivered is done with the quality and courtesy that our guests deserve. The most important detail is making sure they feel they are in their second home.

Could you share with us a nice experience you remember with a guest?
We had a guest who was planning to propose during his vacation. He asked me for help because he had no idea
what to do and he really wanted to surprise his sweetheart by doing something really special and original. Everything was coordinated in order to create a memorable experience that night. The result was that both of them were really amazed by the proposal concept and happy to have chosen our Resort to share the beginning of their life together.

What activity would you recommend to a future guest that you think is a must- do?
I would definitely recommend the eco-tour, because it is not just an ordinary tour, but an opportunity to discover the local fauna and flora of our beautiful state.

What do you think is the difference between Grand Velas Riviera Maya and other resorts in this destination?
The difference is the high quality of service our staff provides. Our personal touch from the moment of arrival always delights our guests and invites them to come back. Our beautiful facilities and amenities make them feel like they are in a luxury atmosphere in paradise. Last but not least, the culinary tour that each of our Gourmet restaurants offers our guests and families.