Meet the Genius Behind Sen Lin

Isaac Esparza Rodriguez Chef of Cuisine Asian Restaurant Sen Lin

How long have you been with Grand Velas Riviera Maya?
3 years, 9 months

What are your main duties?
My main duties are to administrate, organize and direct the grand team I have the honor of working with. I select the best ingredients for preparing and creating new recipes, stay current with epicurean trends and transmit them to my cooks and guests. I craft new experiences for each diner.

What motivates you day after day?
My motivation comes from the sensation that guests leave me with, when I approach their tables after their meal to ask if everything was correct and in order. They share with me their gratitude and I can see in their faces that they have had a truly memorable evening. The fact that the actual guests congratulate my work in the kitchen, from conceptualizing to preparing new recipes, fills me with satisfaction and motivation to continue doing my job with excellence.

What are the details you pay special attention to in the restaurant?
I try to insure that the service is completely personalized. Each guest has special requirements, from special diets to particular eating habits. It is a delicate subject and if something is not done correctly it could be unpleasant or even dangerous. For anniversaries or celebrations of special dates, we try to provide something exceptional for each guest; something that will remain in their memory forever.

What is your recommendation for guests, in order to maximize their experience at the resort?
I recommend that each guest place their confidence in us, allow themselves to be pampered by our warmth and friendliness, and don't miss the opportunity to visit every part of the resort. Each area has something marvelous to offer. For example, we have the restaurants, each one with their own personality. Each chef has been given the liberty to share our individual spirit in our restaurant, creating a unique ambiance in each one while remaining true to the concept of the entire resort. Advise us of your special requirements and we will carefully handle your requests. If you are coming to celebrate something in particular, let us know and we will make your day truly special.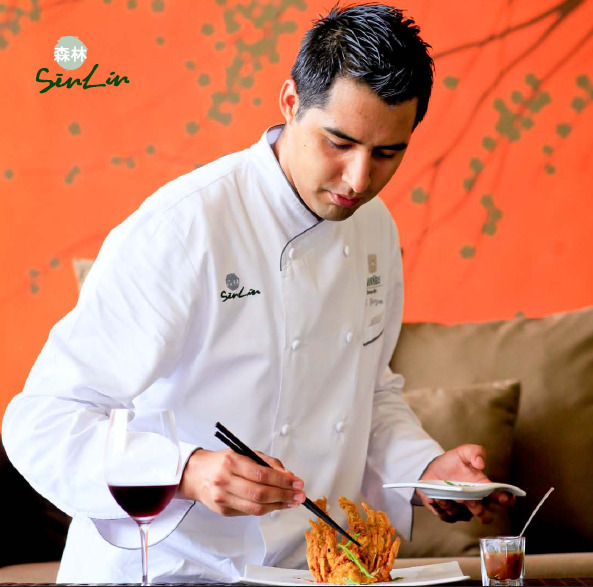 Could you share with us a pleasant experience with a guest?
I have had many satisfactory experiences with guests, but one that remains ingrained in my memory was when a very nervous gentleman asked for my assistance. He was going to propose to his sweetheart and had no idea how he should present her with the engagement ring. He left it all in my hands. That day I prepared a special dessert for the couple, with the ring hidden among rose petals covered in chocolate. We covered the dessert with a sphere filled with vapor scented with anise and cinnamon, which perfectly hid the contents inside. The server approached the table, and upon removing the sphere, the scented vapor filled the restaurant with the delicious aromas. The surprise was wonderful, and the guest was thrilled. He thanked me profusely for exceeding his expectations.

What do you think is the difference between Grand Velas Riviera Maya and other resorts in the destination?
The principal difference is the warmth with which we attend to each guest. We also have the highest standards of quality in our work, which range from the best facilities to the best staff. Velas Resorts was the first organization to implement a Luxury All-Inclusive concept; up until several years ago when one visualized an All-Inclusive hotel images of poor quality and bad service came to mind. However, Grand Velas Riviera Maya changed those preconceived notions by creating a new style in this niche and was able to establish itself as a unique luxury brand.

Recipe: Sweet Spring Roll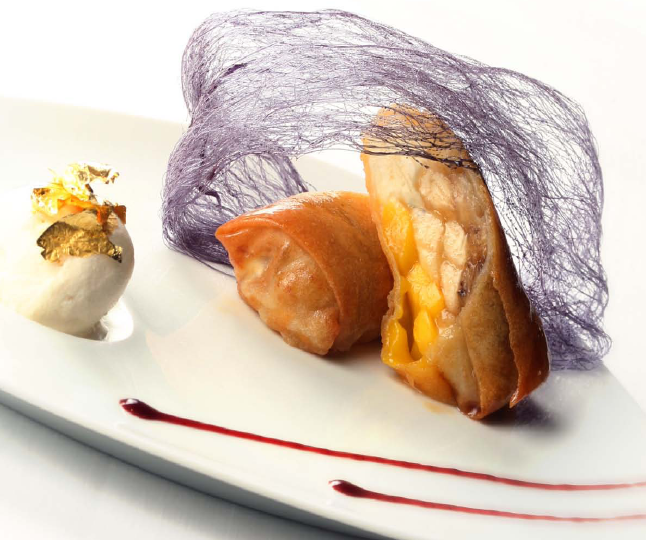 Ingredients:
Spring roll wrappers 50 grs. | Fresh Mango 50 grs. | Banana 50 grs. | Cream Cheese 20 grs. | Agave Syrup | Oil for frying 50grs. | Ginger ice cream 50 grs. | Anti-humidity sugar 50 grs. | Black food coloring 2 grs.

Preparation:
– Slice the fruit into strips
– Fill the spring roll wrapper with the fruit and small amount of cream cheese.
– Make a caramel with the sugar and black food coloring.
– Fry the sweet spring rolls in hot oil until golden and crispy. Bathe in agave syrup.
– Serve with ginger ice cream and decorate with the caramel.