Grand Velas Riviera Maya Wins Top Awards for Interior Design by Melin Castro
by Karen Weiner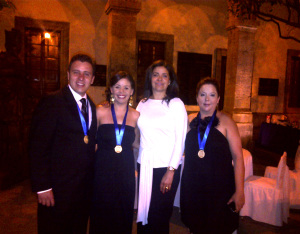 The 2011 top   Double Gold Medal Award for interior design went to Melin Castro Ardavin for her work for  the Grand Velas Riviera Maya in the Fourth International Forum of Women in Architecture and Interior Design of the Iberoamerican Council of Interior Designers (CIDI). The award, given for the best in Mexico, recognized her body of work for the Grand Velas Rivera Maya's three hotels within a hotel and the spa. Castro is the Interior Designer and  Creative Director for Velas Resorts' four luxury all inclusives in three destinations in Mexico and also President of MC Design of Guadalajara.
Castro also won two gold awards in the hospitality design category for her interiors for the Riviera Maya property for the three hotels and spa. The awards were given by the Fourth International Forum of CIDI and by the Fifth CIDI International Bienal of Interior Design.
A gold medal in the hospitality category was also given to architectural firm Elias Elias AR for their dramatic architectural design for the Grand Velas Riviera Maya.
"To design the resort with over 1600 feet  of beach fronting the Caribbean and 150 acres  of mangroves where we needed to create three different ambiances was a challenging and rewarding experience,"said Castro Ardavin. "Much credit for the awards also goes to my talented team, without whom I couldn't have done this," she continued.
. . . . . . . . . . . . . . . . . . . . . . . . . . . . . . . . . . . . . . . .