Mexico Horseback Riding Vacations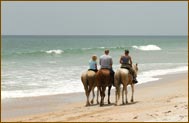 Explore the beaches and jungles of Riviera Maya on an exciting horseback riding tour. Guided tours are offered through a variety of qualified adventure companies that include hotel transfers, horse rental, and refreshments. Experienced equestrians are often permitted to gallop their horses on the beach. For more information, visit http://www.cancun-discounts.com/tours/cancun/horseback-riding-loma-bonita.htm.
Related
Verónica Toro

Enjoying the Riviera Maya and Playa del Carmen beaches with the little ones is the funniest and most gratifying experience ever. To ensure a pleasant…

Sofi Hernández

In general, when we talk about Quintana Roo, we can focus on the different areas that stand out in this state. From north to south,…

Sofi Hernández

Throw a Welcome Party to remember! Giving your guests a warm welcome to your destination wedding is a great token of appreciation.