Many advances have been achieved by humanity over the years, and one that still brings much admiration nowadays is the fact that humans managed to create ways to fly, and this was brought to life by Wright brothers. Thanks to these and many other inventions, there is a way to overfly the astonishing Riviera Maya -and it is aboard of an airplane-, it is made possible thanks to parasailing.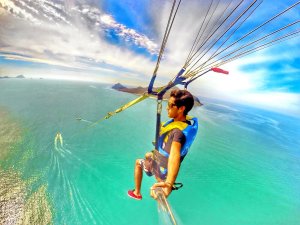 A thrilling activity, parasailing is an experience worth arranging for. How it works? A parachute is tighten to your back and the device has a large cordon attached to a boat that will sail the waters while you are lifted up in the sky, having a panoramic view of the impressive turquoise Caribbean sea. You just have to lay back and enjoy the scenery at the time the adrenaline levels increase!  
One company in the area providing this services is: AquaWorld, offering an array of tours and extreme water sports. They have innovated in the field, by adapting a chair to the parachute, allowing adventurers to get the complete feeling of comfort, and making it possible to enjoy even more the views of the Mexican Caribbean, the hotel zone and the Nichupete lagoon. The best postcard will be a striking picture from high above, taken by you.
Haven't been to Riviera Maya yet? Start planning your escapade to enjoy this beautiful place. For more information about this activity visit: aquaworld.com.mx.
 Photo credit: AquaWorld and FunForLouis