Personal Butler-Concierge Program Elevates Grand Velas Riviera Maya
Personal Butler-Concierge Program Elevates Grand Velas Riviera Maya
Resort's Guest Satisfaction
Riviera Maya, Mexico (August 2, 2012) – Despite many other premier services and amenities for guests at the "Beyond All Inclusive, Beyond All Compare" Grand Velas Riviera Maya, the resort credits its butler-concierge services — a personal concierge assigned to each suite — as an important factor in its recent notable distinctions. Since opening in late 2008, the resort has racked up the #2 resort in Mexico (#38 overall) in Travel + Leisure's "World's Best" Awards, one of the 10 Coolest All-Inclusive Resorts (Forbes), Commitment to Quality Award (Leading Hotels of the World), Condé Nast Traveler Gold List for Best Hotels, and the only family-friendly all-inclusive resort in the Mexican Caribbean to receive the Five Diamond Award (AAA) among others.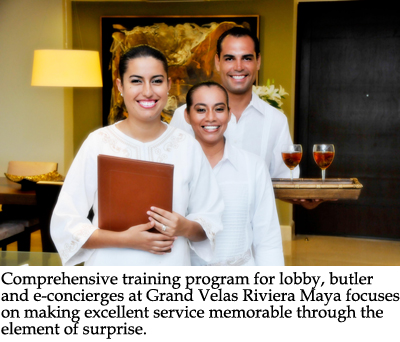 Based on the principles of customer experience management (CEM), ultimately "the customer knows best," the Concierge Training Program began over four years ago prior to the resort's opening and still continues as part of ongoing professional development. Its curriculum consists of sessions on the historical background on the concierge, Leading Hotels of the World and American Automobile Association (AAA); job description and professional profile required; description of quality standards required by LHW and AAA; and, practical training exercises. The program also teaches working as a team to be brand ambassadors to other departments (e.g. Food & Beverage and Operations) and conflict resolution.
"The most important part of training is to teach how to personalize service for each guest, taking into account his/her culture, reason for trip, personality, and needs," said Fernando Garcia Rossette, Managing Director for the Grand Velas Resorts. "The greatest service we teach our concierges at Grand Velas Riviera Maya is to create the "wow" factor for guests, making excellent service memorable through the element of surprise."
The program is for all lobby concierges (coordinates guests requests for services throughout the resort during their stay), butler concierges (catering to guests' needs in-suite) and e-concierges (attends to guest needs before they arrive at the hotel).
For more information, call Velas Resorts at 1-888-323-2776 or visit www.velasresorts.com.