Sorry, there was a problem.
Twitter returned the following error message:
Sorry, that page does not exist
Piaf receives a visit from singer Saúl Hernández and his wife Julia Adams
Saúl Hernández, vocalist for famous rock band Caifanes, visited Grand Velas Riviera Maya resort to celebrate his wife Julia Adams' birthday at restaurant Piaf.

Recently named Maître Cuisinier de France, Executive Chef Michel Mustiere created a special menu for the evening:

Salad of tender greens over Boursin cheese slide with spiced bread crouton
Tuna covered in pepper with beet vinaigrette
Mushroom cassoulet and Bourginonne-style escargots
Leek cream with champagne and truffle essence
Gratinated French onion soup
Angus filet in Rosemary reduction with gratin dauphinois
Organic rib eye steak marinated in smoke oil
Apple tart
Chocolate cake with red wine- infused pears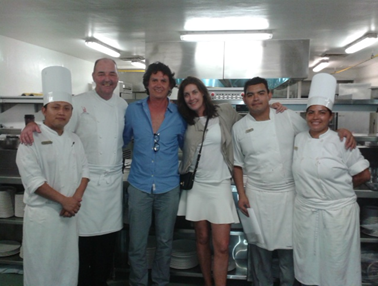 The guests of honor thanked Chefs Denisse Martín, Moisés Suarez and Humberto May for their dedication and professionalism, and Pastry Chef Naty Molina for the chocolate cake with pears and red wine that she created especially for the occasion. Upon leaving, they congratulated Piaf Manager Claudia Lopez, Chef Mustiere and the entire team of hosts for the enormous culinary talent and spirit of service they convey.

The singer concluded the evening by saying: "Here at Piaf, I feel at home".