Playa del Carmen Spearfishing Puts You Face-to-Fin with Your Catch
Toss the fishing line & prepare to land a whopping Wahoo the old fashioned way, as nothing compares to the thrill of holding your breath to depths of 10-100ft, freediving for dinner on a heart-pounding charter with the experts at Spearfishing Today.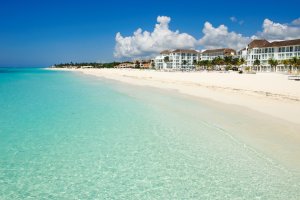 Dive for Your Catch on Playa del Carmen Spearfishing Charters
Expert Guides:
Spearfishing Today
14th Street & the Beach
Hours:
7am-7pm
Charters:
$300-$700
If you love swimming, but the idea of fishing strikes you as too passive – maybe even boring – you've got to try spearfishing. In Playa del Carmen, you can arrange to have an expert guide teach you everything about the sport, from how to use the spear gun to the delicate art of freediving. For those who are unfamiliar, freediving involves holding your breath to depths of 10-100 feet, allowing you the freedom to pursue your fish of choice in their own environment. Think of it as hunting underwater.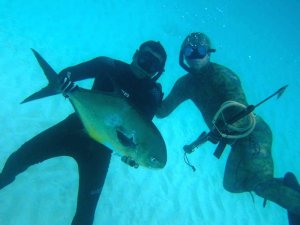 "We Live to Spear & Spear to Live"
Experienced "spearos" like the guides at Spearfishing Today live by this mantra. They pride themselves on the selective nature of the sport, as opposed to tossing a line in the water and seeing what bites. That, and the waters of the Caribbean are absolutely gorgeous, rife with coral, stunning ledges, as well as the occasional shipwreck.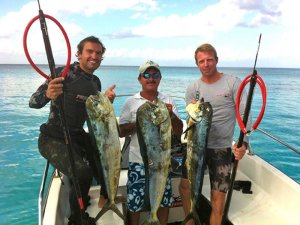 What Makes Spearing Here so Special?
To put it simply, it's all about the water. With an annual range of 68-85º F, within 20 minutes of Playa you'll find tasty species like Mahi Mahi, Wahoo, Grouper, Snapper, Amberjack, and Spanish Mackerel. Best of all, Spearfishing Today welcomes beginners and experts alike, with snorkel gear, a spear gun, and weight belt included in every charter – not to mention a snack of sea-fresh ceviche, handmade from your catch.