Sorry, there was a problem.
Twitter returned the following error message:
Sorry, that page does not exist
Receta: Tártara de Atún en Riviera Maya
Grand Velas Riviera Maya es reconocido hoy en día, como uno de los hoteles que ofrecen opciones culinarias excepcionales. Con reconocidos chefs y restaurantes a la altura de los mejores de Nueva York, París o Roma.
Descubre un auténtico tour culinario con 5 restaurantes gourmet que ofrecen a los amantes de la cocina de especialidades, ese inigualable toque.
Compartimos con ustedes una sencilla receta para preparar en casa!
TARTARA DE ATÚN
Ingredientes
400 grs Molida de atún
60 grs Claras de huevo cocidas
30 grs Cebollín picado
1 pza Pimiento escalfado
50 grs Paprika
50 mls Salsa srirasha
20 mls Aceite de ajonjolí
20 mls Aceite de ajo
40 mls Jugo de limón
30 grs Jengibre picado
20 grs Cebolla
1 pza Mango
30 mls Vino de arroz mirin
30 grs Azúcar blanca
15 grs Mantequilla
15 grs Hueva de camarón
5 grs Sal volcánica
12 pza Wonton frito
Procedimiento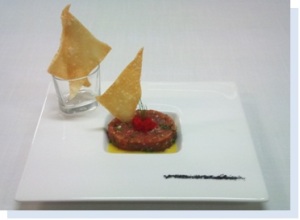 Poner el atún en un recipiente e incorporar las clara de huevo, cebollín, pimiento.  Sazonar con paprika, sal, pimienta, jugo de limón, los aceites, salsa srirasha.
Para el culis de mango:
Poner en una cacerola la mantequilla, ajo y jengibre hasta dorar,
Agregar el mango, licuar todo con mirin, agua, sal, pimienta, azúcar, y colar. Servir y adornar con pasta won ton frita.
Encuentra más acerca de la cocina en Grand Velas Riviera Maya.