Sorry, there was a problem.
Twitter returned the following error message:
Sorry, that page does not exist
Ricardo de la Vega Garcia: Chef of Restaurant Frida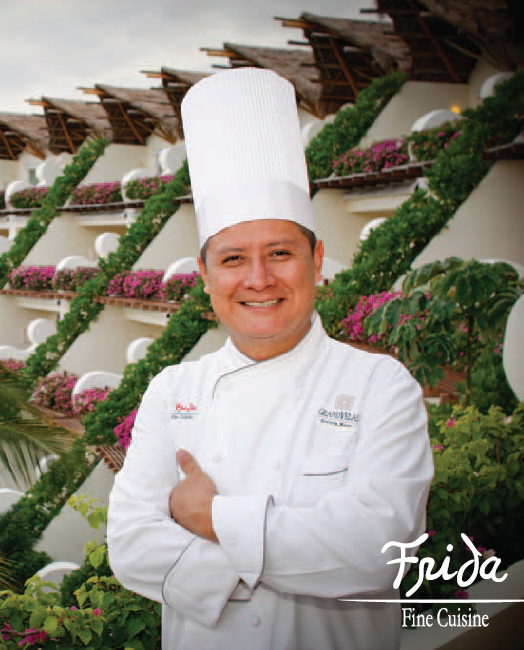 How long have you been working at Grand Velas Riviera Maya?
About 4 years. I've been here since the resort opened.

What do you do as Chef?
I supervise quality standards for food and beverages, administer the kitchen's resources, and provide continuous education and training for my staff. Above all, I seek out inspiration to constantly renew our menu with exciting flavors and spices of Mexico.

What is your principal motivation for your work at Grand Velas?
My encouragement and motivation comes from my love for my work and my joy in rediscovering the cuisine of Mexico day after day. It always has something new to offer.

Where does your love of cooking come from?
From the foods cooked in my home when I was young- it is something that encourages me every day.

What do you seek to achieve for your guests? .
To give 100% each and every day. Our goal is to make our restaurant an unforgettable experience for each guest, every time they step into Frida.

Could you share with us a particularly memorable experience with a guest?
Well, the recognitions we've received as a whole are truly memorable. They make all of our efforts so gratifying, so I prefer to focus on our staff and cuisine's achievements. We have created a full gastronomic experience here, and that is an unbelievable sensation for me.

What is your favorite ingredient of the moment? Something you are excited to share with your diners?
In Mexican cuisine there is such a variety of ingredients it is difficult to decide on just one, but some of my favorites are garlic, cilantro, Habanero chilies and beans.

What is your favorite aspect of Mexican cuisine to introduce your guests to?
I love the flavors of Mexican homes, unknown ingredients from our Pre-Hispanic roots.

What is your favorite dish to prepare at the restaurant?
Every dish has a completely different identity from the others. To decide on one in particular, one plate that is loved by many is the tuna in crust of chili seeds and huazontle with orange molé.

What's your favorite dish to prepare at home, for guests or family?
A good Hidalgo-style Barbacoa, and in my home, some chiles rellenos, a tortilla soup, and fish or shrimp in garlic mojo.

What aspect of the local area inspires you in your work?
The diversity of customs and ingredients in each region of the state.

Any kitchen secrets you'd like to share from the restaurant?
Well, I feel that in the kitchen there are no secrets. The difference comes from doing everything with love and always being willing to live and learn from new experiences, in this career in which you never stop learning.

What is the best meal you've ever had? Does it continue to inspire your creations?
Every day in every place is a new experience, but the flavors that accompany me and that I try to transmit are those of my mother's cooking, and from the small pueblos of this beautiful country.

What activity would recommend to a future guest- what is an absolute must-do in your opinion?
For a Chef like myself, that answer comes easily. Guests simply must experience our full culinary tour. They should visit as many restaurants of our restaurants as possible during their stay. Each space has so much
to offer in the way of cuisine and ambience. Grand Velas is a very special place for experiencing food in all its many forms.

What do you think is the difference between Grand Velas Riviera Maya and other resorts in the destination?
Undoubtedly, the difference lies in the quality of our staff. I have the pleasure of working with these quality individuals day in and day out, and I would be happy to be served by any one of them. We represent Mexican hospitality at its finest.