Sorry, there was a problem.
Twitter returned the following error message:
Sorry, that page does not exist
Riviera Maya Eco Parks Offer Thrilling Family Fun for Everyone
Hundreds of acres of Yucatan jungle & Caribbean waters beckon adventurous travelers to ecological theme parks in Riviera Maya. Xcaret, Xplor, & Xel-Há each have their own fun, from speedboats to off-road vehicles – but why choose? Visit all three!
High-Flying Family Fun at Riviera Maya Eco Parks
A day at the beach is, well… a day at the beach. It's everything we need to relax, decompress, swim and sun away our every worry. But after a day or few frolicking in the surf and sand, we're often left wanting for a bit more adventure. That's where the famous ecological parks in Riviera Maya come into play. Conceived and presented by Xcaret Experiencias Group, each one has its own unique features to offer. Here's a breakdown of what you'll find where:
Xcaret Park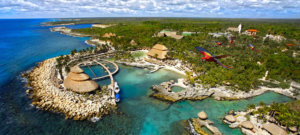 Chetumal-Puerto Juarez Hwy
Km 282
Treating the senses of even the tiniest traveler to a wonderland of Mexican Caribbean delights, this is an ideal destination for families of all sizes. Onsite attractions include tours of the 200-acre theme park's namesake Mayan ruins, a recreated Mayan village with nonstop live entertainment, numerous wildlife exhibits, swimming in crystal clear cenotes, and a network of caves for curious explorers. You can even add extra thrills like swimming with sharks, speedboat rides, Sea Trek® and Snuba® diving.
Xplor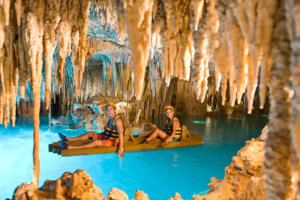 Cancun-Tulum Hwy
Km 282
Home to the highest zipline in all of Riviera Maya, this 145-acre park is all about adventure. In addition to a 148-foot drop, Xplor features 14 zipline runs flying nearly 2.5 miles through the jungle. Ages 18+ can get behind the wheel of an amphibious vehicle for more than six miles of muddy off-road fun, followed by some relaxing cave river rafting. For another level of excitement, visit at night during Xplor Fuego.
Xel-Há Park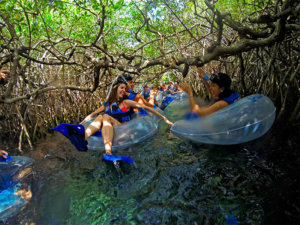 Highway 307
Km 240
So much more than a waterpark, Xel-Há is the largest natural aquarium in the world, where the Caribbean meets the underground rivers of the Yucatan. It's a magical inlet lagoon rife with wildlife, from tropical fish of every color imaginable to sea turtles and a traditional Mayan beekeeping area. As for the fun, the park is hosts over 25 things to do, such as cenote cliff jumping, rope swings, zipline bikes, and swimming with dolphins.