Riviera Maya Wine & Food Festival is a Gourmand's Dream
What do a champagne Caribbean cruise, Gourmet Taco Competition, celebrity chef Golf Tournament, five-course Best of Mexico Dinner, & international beach BBQ have in common? They're all events at the 2017 Wine & Food Festival Cancun, March 15-19th.

Delight in the Riviera Maya Wine & Food Festival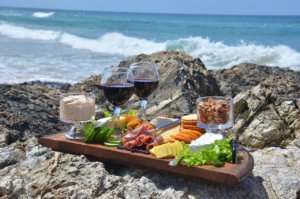 When:
March 15-19th
If you're a foodie, dining is the sweet and savory centerpiece of every vacation. Be it rustically authentic, artfully inspired, or prepared with painstaking precision, food is the key to unlocking the heart of a culture. That's what makes the 2017 Wine & Food Festival Cancun such a hit with hungry travelers craving more than just a full stomach (which you'll most certainly find). Spanning five days and nights, the nine events comprising the event serve up something for everyone, from a Caribbean cruise to a star-studded Golf Tournament, Taco Competition, and beachfront BBQ.
Welcome Cocktail Night
March 15th, 8pm
A mix and mingle evening of photo-ops with all the festival's celebrity chefs, sommeliers, and winemakers.
Best of Mexico Dinner
March 16th, 8pm
Welcome cocktails begin the evening, followed by national wines specially paired with five courses from Mexican culinary masters, including this year's chef of honor, Jorge Vallejo of Quintonil.
Catamaran Lunch Cruise to Isla Mujeres
March 17th, 10:30am-5pm
Champagne on the Caribbean followed by a six-course lunch with wine pairings from renowned chef Daniele Müller at Zoëtry Villa Rolandi on Isla Mujeres.
Gourmet Taco Competition
March 17th, 8pm
Sixteen premier Mexican chefs compete for bragging rights, preparing imaginative riffs on the country's most famous finger food, all washed down with wine, tequila, or mezcal.
New York Tribute Dinner
March 18th, 8pm
Honoring the Big Apple, tonight's three NYC chefs boast such accolades as James Beard's "Best New Restaurant 2015," "Best New U.S. Chef 2015," and a 2014 Wine Spectator award, not to mention numerous stars from Michelin and the New York Times.
Golf Tournament with Star Chefs
March 19th, 9am
Hit the green beside your favorite chefs, sipping tequila and wine with small bites along the way.
Rock & Roast: Texas Meets Mexico
March 19th, 8pm
Smoked meat from both sides of the border, wine, beer, tequila, and live music on the beach. This is the party we've all been waiting for…