Riviera Maya Jazz Festival 2009!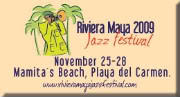 For four days Riviera Maya again becomes the host of the best national and international Jazz performers of all time! The Riviera Maya 2009 Jazz Festival is a gathering of amazing and talented musicians in one of the most beautiful areas of the Riviera Maya. As is now the custom in Playa del Carmen, the most important Jazz Festival of the Mexican Southeast will take place from November 25th to 28th, 2009. What a fantastic opportunity to see Jazz superstars perform in paradise!
This year's schedule will feature:
The Royal Band, Aguamala, Colin Hunter and Sacbe on November 25th
Na'rimbo, Juan Alzate, Mark Aanderud, and Enrique Nery on November 26th
Jim Beard, Spyro Gyra and Sergio Mendes on November 27th
Pat Martino, Al Jarreau, and Herbie Hancock on November 28th
And the best of all, entrance is free for all jazz lovers!
All concerts will take place at Mamita's Beach starting at 7pm.