Sorry, there was a problem.
Twitter returned the following error message:
Sorry, that page does not exist
Riviera Maya Jazz Festival 2014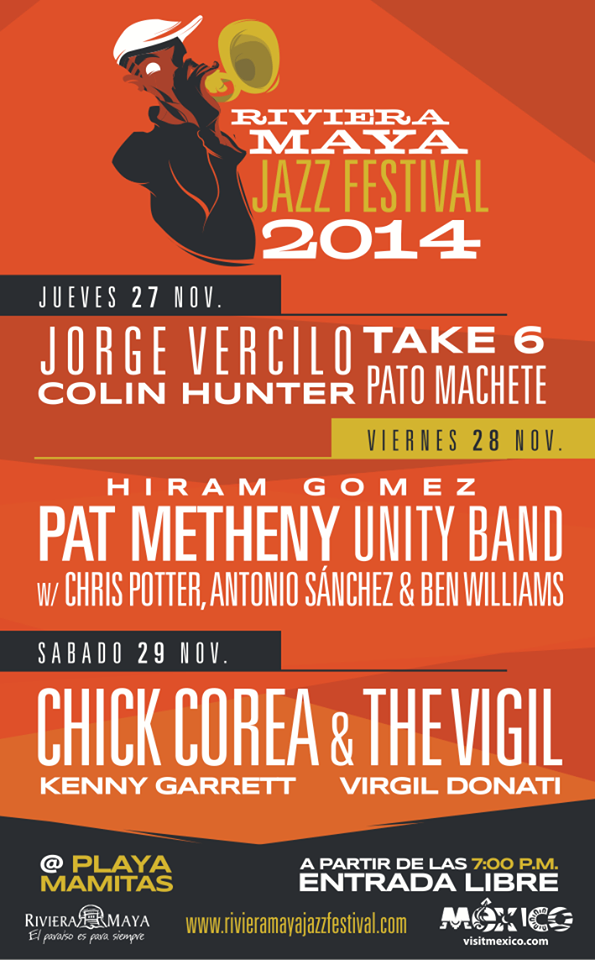 By Haydé Escalante
Now in its 12th year the Riviera Maya Jazz Fest promises to be a must-go affair; this year it will take place from November 27th to the 29th at Mamitas Beach Club in Playa del Carmen.
The festival will present some of the best voices on the jazz scene today. Brazilian singer and songwriter Jorge Vercillo, American jazz band Take6, Colin Hunter and Pato Machete will share the stage on Thursday, November 27th.  Vercillo will open the first night of the event playing his famous singles; Take 6 is set to wow the crowd with their amazing vocals.
On Friday, November 28th Mexican legend of international fame Hiram Gómez will present his latest album titled Hold Down the Groove. Jazz pioneer Pat Metheny will perform with the Unity group (Chris Potter, Antonio Sanchez and Ben Williams), promising an amazing evening for all who attend.
The Riviera Maya Jazz Festival's last day (Saturday, November 29th) is sure to be the perfect finale to such an entertaining musical experience. 20-time Grammy-Winning Jazz Legend Chick Corea will be closing the weekend-long festival. With him playing on this beautiful beach, it can't get any better. Australian based Virgil Donati continues his "In This Life" tour, performing in the gorgeous Riviera Maya as part of the line-up for the last day.
The twelfth Riviera Maya Jazz Festival will present incredible talent on a beautiful natural stage. For three days, the public can enjoy free-entrance concerts from 7pm onwards.  This Riviera Maya festival is an important part of the cultural and musical events that this destination has to offer.
Stay tuned for more information.