Sea Trek Underwater Adventure
By Verónica Toro
Translated by Nyima Bieber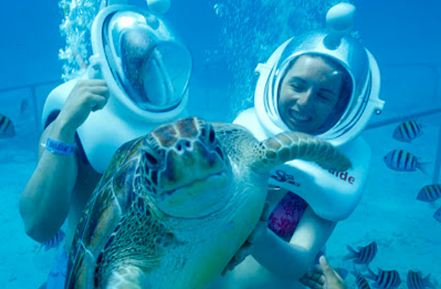 Source of photo: www.luxuriousmexico.com

This activity is available in the eco-archaeological park Xcaret near Cancun. It is truly one of the most fascinating adventures available, and really allows you to be in direct contact with marine life.

When you arrive, the staff provides you with some tips and instructions for signs to make if you feel any discomfort. They also give each participant diving shoes; it is very important that the shoes fit you perfectly, as you will be walking a long stretch underwater.

Then, you put on a helmet (quite heavy), which is like a bubble. It is connected to oxygen tanks located outside, allowing you to breathe naturally in the deepwater. You just need to be careful not to bend down, as water may seep into the bottom of the helmet.

The thrill of descending the stairs, between nerves and adrenaline, is unexplainable. Below, there is a horizontal tube to hold on to in order to avoid accidents and keep your balance under the sea. The route is approximately 7 meters below the surface and lasts approximately 20 minutes (the time absolutely flies by!).

Along the way, you see a myriad of plants, coral, seaweed, reefs, turtles and fish of all colors. There are people who have seen sea tortoises; this wasn't the case for me, but it didn't matter, I was enchanted. And that's not all- the best part is when the divers come and release food, because the all of the fish head straight towards you! You feel them coming and they go all around your body. Every now and then you even feel little bites, but don't worry, it doesn't hurt; on the contrary, it tickles.

The route comes to an end and you then have to go back the same way you came- it's very sad when that time comes.

I recommend purchasing an underwater camera, even if it's a disposable one. You must have printed memories of this. Needless to say it's a challenge to take a picture under water, even more so with a giant helmet on your head, but it can be done.

Whether at Xcaret, another eco-archaeological park or on the beaches of the Riviera Maya, ask around to see where you can the Sea Trek- it is truly AMAZING!

¿Buscas la versión en Español?