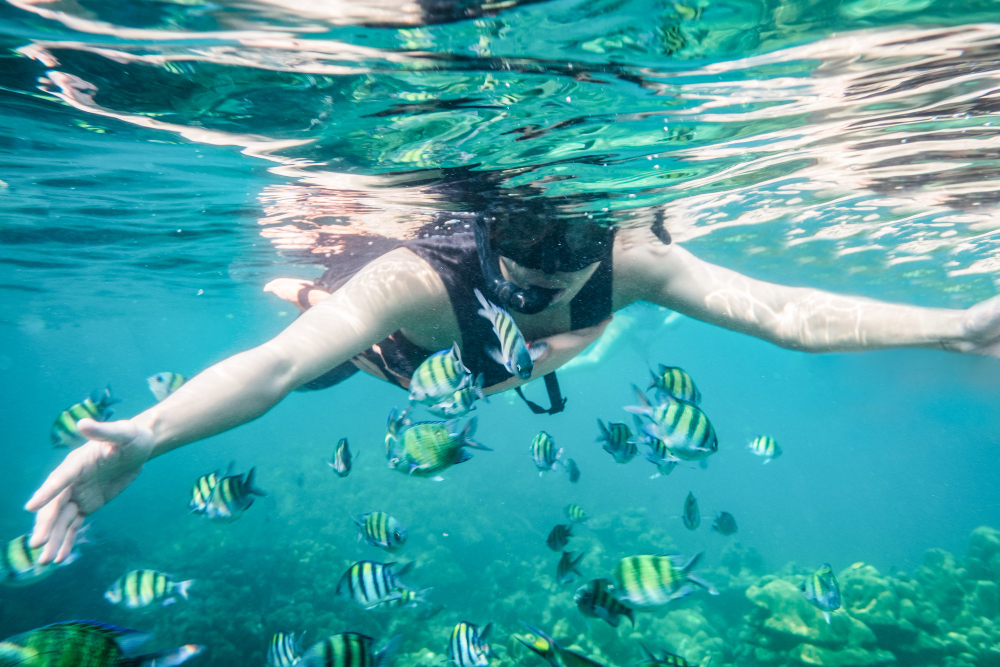 Riviera Maya is a dream destination, famous for its white sandy beaches, turquoise waters, and impressive coral reef. Therefore, the Mexican Caribbean offers a wide range of activities for sea lovers, and among them, snorkeling stands out as a unique experience to explore the underwater world.
Snorkeling is an activity that requires something other than certification or complicated equipment. You can explore the marine world without fully submerging with a mask and breathing tube. With its expansive coral reef, Riviera Maya becomes a perfect setting for this thrilling adventure.
Impressive coral formations
As you dive into the crystal-clear waters of the coral reef, you will witness the magnificent marine life that inhabits its depths. The millennia-old formations unfold in colors ranging from soft to intense tones.
During your snorkeling experience in the Riviera Maya, you'll encounter a range of marine creatures up close, such as colorful fish, rays, and sea turtles, and if fortune favors you, even nurse sharks and dolphins may appear.
Snorkeling in cenotes 
In addition to its stunning beaches and coral reefs, the Riviera Maya boasts a remarkable network of underground rivers called cenotes. These revered freshwater pools, cherished by the ancient Mayans, present a genuinely enchanting snorkeling opportunity. As you immerse yourself in their transparent waters, you'll be transported to a realm of stalactites and stalagmites, forming a mesmerizing underwater scenery. 
The most stunning cenotes for snorkeling in Riviera Maya are:
Dos Ojos
Casa Cenote 
Azul cenote
Zacil-ha
Sac Actun 
Kantun-Chi
Jardín del Edén
Gran Cenote
Snorkeling with marine turtles
Experience the thrilling adventure of swimming alongside majestic sea turtles. Located just 25 minutes from Playa del Carmen, Akumal is famous for hosting these fascinating marine reptiles in their natural habitat. A connection with nature that will fill you with awe as you get to share a magical moment with these incredible creatures.
Other dream destinations to explore  
In addition to Akumal and a wide variety of cenotes, these locations are perfect for snorkeling as well:
Xel-Há: An eco-park with a beautiful cove and diverse marine life. Here, you can swim among colorful fish and enjoy nature in all its splendor.
Puerto Morelos: The Puerto Morelos National Reef Park is home to stunning coral formations and unparalleled marine life.
Cozumel: Although located just off the Riviera Maya coast, Cozumel Island is famous for its incredible coral reefs and crystal-clear waters, making it a world-class snorkeling destination.
Tulum: On its beaches, you will find reefs close to the shore, allowing you to admire marine life while enjoying beautiful views of the Mayan ruins.
Xpu-Ha: This relaxing beach is perfect for snorkeling, with clear waters and a coral reef that hosts various marine species.
Sian Ka'an Biosphere Reserve: This World Heritage site offers snorkeling opportunities in its lagoons, where you can admire the natural beauty and wildlife of the area.
Xcacel-Xcacelito: A protected beach reserved for the nesting of sea turtles. In addition to seeing this beautiful species, you can also snorkel and observe tropical fish in its calm waters.
These are just some of the best places for snorkeling in the Riviera Maya. Each area offers a unique experience in an underwater world full of wonders.
Which of these destinations have you yet to explore?